Doug Kass Explains Why His Bearish Case Remains Justified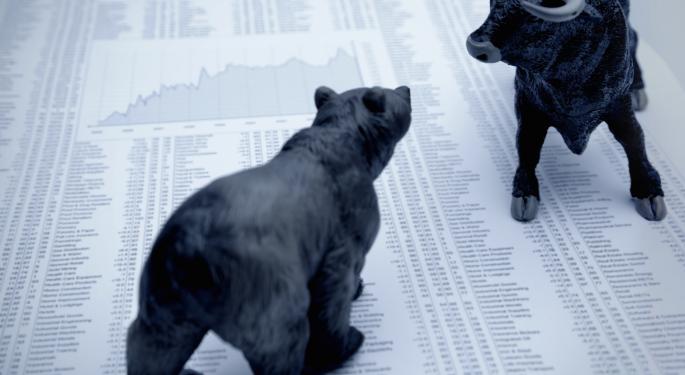 Doug Kass of Seabreeze Partners joined Benzinga's #PreMarket Prep on Tuesday. Kass is a regular guest on various TV and media outlets and always eager to share his views.
Jumping straight into it, Kass was asked his views on Apple's (NASDAQ: AAPL) short- and long-term outlook.
When shares of Apple were trading north of $700 in 2012, Kass wrote an article titled The Bear's Case for Apple in which he explained how Apple's profit margins were vulnerable and the Street's expectations for growth were too high.
As it turns out, Kass' bear case for Apple played out; shares of Apple traded below the $400 mark in mid-2013.
After Apple's better-than-expected first quarter, shares began to rally. Kass speculated that part of the rally was due to momentum traders entering the name.
Related Link: John Melloy Of StockTwits Talks About The StockTwits Community
Shares of Apple continued to rally after its acquisition of Beats, which was a "non-event" according to Kass, who argued that the acquisition could end up proving to be a "slight disappointment" or "slight present surprise."
The media, Kass argued, hyped up Apple's acquisition of Beats unnecessarily given the size of the acquisition relative to Apple's overall market capitalization.
"I think the stock is fully priced, and probably in-line with my market view which is cautious and vulnerable over the short-term," said Kass, while adding that his bearish view from when shares were trading north of $700 remains unchanged.
"It's a mature company with a strong foundation on the balance, obviously great market share, but it's market share is exposed to new competitors."
Shares of Apple will begin trading split-adjusted on June 9.
Economic Growth
Switching to the overall market and the economy, Kass still believes that interest rates will remain low for the remainder of 2014. As such, his bearish views over the economy remain.
"Economic growth domestically will miss expectations," said Kass, adding that corporate estimates will fall short.
In terms of financials, Kass explained how Goldman Sachs (NYSE: GS) has become more of a capital markets play than an investment management play due to capital ratio mandates. As such, Goldman Sach's returns on invested capital and its terminal price earnings multiple should be substantially lower.
Kass pointed out how this is the case for Goldman Sachs in addition to other banks.
Despite Kass' bearish views on the overall economy, financials and other sectors, the bulls are without a doubt in complete control as many major indices continue printing historical all-time highs.
Kass explained that there are times when the markets leave a false impression, given the fact that volume becomes relatively low, trading ranges become small and volatility becomes modest.
"Looking back in history when this happens, it's almost always a sign of a market top," said Kass, adding that he is at his highest net short exposure for the year. "Unfortunately, what we have learnt from history is that we don't learn from history."
Kass also added that many fundamental concerns, such as disappointing global economic corporate profit growth and corporate and consumer dependency on low interest rates, further justify his negative outlook.
Kass pointed out that the Russell index, which is composed of small-cap companies, has typically been a forerunner of market movements. Given the index's poor performance, this is just one of many signals Kass uses to warn investors.
"We have to be vigilant here," Kass pleaded, giving his recommendation of a below-average exposure to U.S. equities.
"I don't know a lot of things."
When asked what his short- and long-term outlook for gold was, Kass admitted, "I don't know a lot of things" and gold is one of them one.
"Gold is like religion," Kass metaphorically explained. "In religion, you either believe in God, or you don't. In gold, you either believe in gold, or you don't."
The momentum in gold peaked a few years ago. The same investors who liked gold at $1,900 an ounce still like it today, Kass explained.
While Kass is more known for his short positions, he is not afraid to initiate long positions. One of Kass' most recent buys is Radian Group (NYSE: RDN), one of the largest mortgage insurers.
Related Link: Rahul Saraogi Of Atyant Capital Advisors Talks About Investment Opportunities In India
Shares of Radian on June 3 traded higher after the company reported that mortgage activity improved from low levels earlier in the year.
"We have a pause in housing," Kass speculated. "What this pause is doing is it's serving to elongate the housing cycle. We have a lot of pent-up demand which will come to the floor probably in late 2015, which is really great for Radian and other mortgage insurers."
The last time Kass spoke with Benzinga, he shared his bullish views on Bon-Ton Stores (NASDAQ: BONT).
Kass argued that the company was hit hard due to weather-related issues during the first quarter, where comparable-store sales fell 5.8 percent.
Bon-Ton is geographically located in areas that were hit the hardest from a prolonged and unusually cold winter. Other retailers are diversified in their product offerings, and more importantly in their geographical location.
Nevertheless, Bon-Ton reaffirmed its full year guidance which is a positive for the company.
"Obviously, weather in May and June has improved, and I think their results will follow suit," stated Kass.
Parting Words
Final advice from Kass: Spend more time in your vegetable and plants garden than your stock-market garden.
"There is a great deal of complacency, and we all know that an extreme lack of fear and complacency often begets market instability," said Kass, urging investors to remain diversified and keep a higher level of cash on the side.
Perhaps, most importantly, Kass urged everyone to enjoy the summer.
View Comments and Join the Discussion!
Posted-In: Apple BeatsHedge Funds Movers Tech Trading Ideas Interview General Best of Benzinga