Netflix Launches 'On Screen' Attacks Against Verizon's Slow Streaming Speed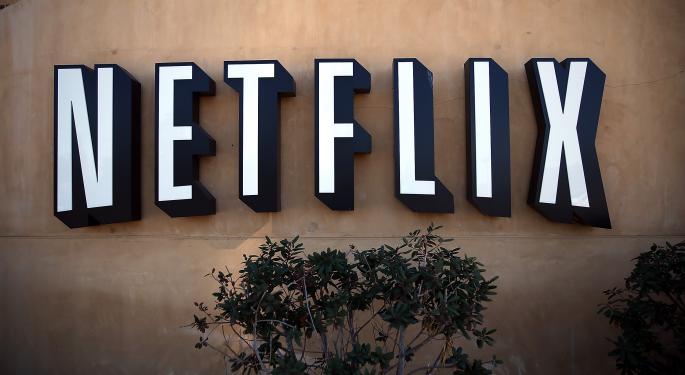 Netflix (NASDAQ: NFLX) is telling some customers that streaming its content on Verizon (NYSE: VZ) is slow at times. This occurs despite a paid peering agreement between Netflix and Verizon that was supposed to make streaming smooth and less prone to buffering.
Re/Code reported that Vox Media designer Yuri Victor received the message, "The Verizon network is crowded right now," as he tried to stream Netflix programming on his MacBook.
Netflix confirmed the messaging, telling Ars Technica, "We are testing ways to let consumers know how their Netflix experience is being affected by congestion on their broadband provider's network. At present, we are testing in the U.S. in areas serviced by many broadband providers. This test started in early May."
Related: Netflix Customers Stream 103 Minutes Daily
Verizon representative Robert Elek responded to the charge by saying, "This is a PR stunt. We're investigating this claim but it seems misleading and could confuse people."
After some back and forth between the two companies, Verizon maintained that Netflix was responsible for the slow streaming speeds.
Netflix has been publishing scorecards that rank ISPs by speed for some time. Google (NASDAQ: GOOG)(NASDAQ: GOOGL) recently started doing the same thing. This latest move by Netflix was seen as more direct since it shows up on the customer's device as they are trying to use the service.
It's been noted that Netflix complained about Comcast (NASDAQ: CMCSA) streaming speeds shortly after it signed a paid peering agreement with that ISP.
Netflix complaints have meant little to consumers who have no choice when it comes to an ISP, but in markets where more than one provider is available, the on screen messages could end up costing Verizon business.
In addition to publicly complaining about major ISP streaming speeds, Netflix created a program called Open Connect. Open Connect, which is free, has urged ISPs to connect directly to Netflix servers. Both Comcast and Verizon have refused to join Open Connect.
Related: Elon Musk Teases Something 'Fairly Controversial' Regarding Tesla Patents
The back and forth carping between Netflix and ISPs such as Comcast and Verizon was part of a much larger net neutrality question.
The concept of net neutrality maintains that Internet traffic should flow freely through all networks without discrimination. Providers like Netflix, naturally, want free, unfettered access to the Internet.
Internet service providers, that believe content providers like Netflix contribute to congestion, want to be able to charge those providers to force them to help pay for the cost of upgrades to Internet infrastructure.
The Federal Communications Commission has continued to debate new rules to help decide the question once and for all by the end of this year. The agency has been in a public comment phase with regard to Net neutrality, something probably not lost on Netflix as it continued its public on-screen proclamations against Verizon.
At the time of this writing, Jim Probasco had no position in any mentioned securities.
Posted-In: Comcast Federal Communications Commission Google net neutrality Netflix VerizonTech Best of Benzinga
View Comments and Join the Discussion!