Benzinga's M&A Chatter for Tuesday June 3, 2014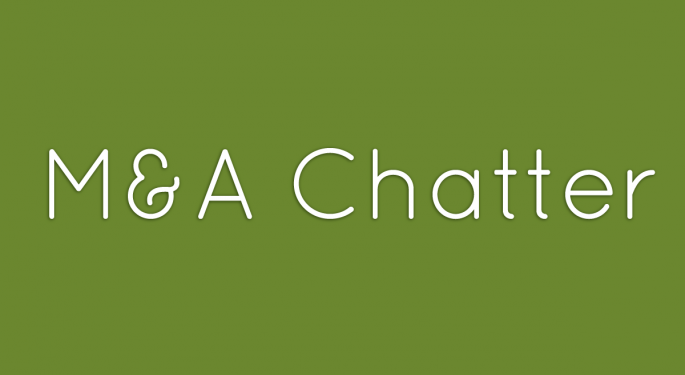 The following are the M&A deals, rumors and chatter circulating on Wall Street for Tuesday June 3, 2014:
Pilgrim's Pride Confirms $55.00/Share Revised Proposal to Acquire Hillshire Brands
The Revised Offer:
Pilgrim's Pride (NYSE: PPC) confirmed early Tuesday, that on June 1, 2014, it submitted a revised proposal to acquire Hillshire Brands (NYSE: HSH), for $55.00 per share in cash, for a total transaction valued at $7.7 billion. The proposal represents an increase of $10.00 per share over the initial proposal of $45.00 per share on May 27, and is $5.00 per share more than Tyson's (NYSE: TSN) $50.00 per share bid on May 29.
Hillshire announced Tuesday that its Board of Directors agreed to conduct separate discussions with Pilgrim's Pride and Tyson regarding their proposals. Hillshire acknowledged that both proposals are contingent on termination of the merger agreement with Pinnacle Foods (NYSE: PF) and said they do not have the right to terminate the agreement and that the Board is "not withdrawing, modifying, withholding or qualifying its recommendation with respect to the Pinnacle merger agreement and the merger, or proposing to do so."
Hillshire Brands shares gained 9.5% Tuesday, to close at $58.65, while Pilgrim's Pride closed at $25.34, a loss of more than 2%. Tyson lost 3% to close at $42.08 and Pinnacle Foods gained 3% to close at $32.77.
Teva Acquires Labrys Biologics for $200M Upfront; Up to $625M Dependent on Milestones
The Deal:
Teva Pharmaceutical (NASDAQ: TEVA) and privately-held Labrys Biologics announced that Tuesday that Teva has agreed to acquire Labrys for $200 million in upfront payment in cash at closing, plus up to $625 million in contingent payments upon achievement of certain pre-launch milestones.
Teva Pharmaceutical closed Tuesday at $51.52, a loss of $0.43.
B/E Aerospace Postpones 2014 Annual Stockholders Meeting to Explore Strategic Alternatives Including Potential Merger
The Postponed Annual Meeting:
B/E Aerospace (NASDAQ: BEAV) announced Tuesday that the Board of Directors of the Company decided to postpone the company's 2014 Annual Shareholder Meeting, originally scheduled to be held on Thursday, July 24, 2014 at 10:30 AM ET. The annual meeting was postponed in order to allow the Board and company management to further evaluate the company's strategic alternatives as announced on May 4, 2014. Strategic alternatives could include, a possible spin-off or a merger.
B/E Aerospace will announce the new date and time of the annual meeting, once a final determination has been made and will file an amended proxy statement and related proxy materials with the SEC at such time.
B/E Aerospace closed Tuesday at $96.72, a gain of $0.11.
KKR to Acquire Internet Brands, Terms Not Disclosed
The Deal:
Website operator, Internet Brands, announced Tuesday it has signed an agreement to be acquired by KKR (NYSE: KKR). Terms were not disclosed.
KKR closed Tuesday at $23.35
View Comments and Join the Discussion!