Benzinga's M&A Chatter for Wednesday May 28, 2014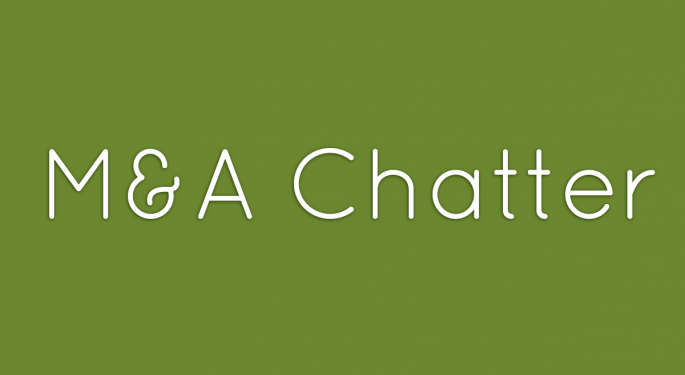 The following are the M&A deals, rumors and chatter circulating on Wall Street for Wednesday May 28, 2014:
CSCO Rumored to Bid for Citrix Systems
The Rumor:
Shares of Citrix Systems (NASDAQ: CTXS) rose Wednesday morning, on unconfirmed market chatter that Cisco (NASDAQ: CSCO) might bid as much as $90.00 per share for the networking and cloud services company.
A spokesperson for Cisco declined comment on the rumor, a Citrix Systems spokesperson was not available for comment.
Citrix Systems shares lost $0.26 Wednesday, to close at $60.86.
Apple to Acquire Beats Music & Beats Electronics for $3B
The Deal:
Apple (NASDAQ: AAPL) confirmed Wednesday it is acquiring Beats Music and Beats Electronics for $3B, consisting of a purchase price of approximately $2.6 billion and approximately $400 million that will vest over time.
Beats co-founders Jimmy Iovine and Dr. Dre will join Apple as part of the deal. Apple expects the transaction to close in FY Q4.
Apple closed Wednesday at 624.01 and traded a bit higher after hours on the Beats news.
Aspen Investment Fund May Acquire Vivus for $640M
The Filing::
Shares of biopharmaceutical company Vivus (NASDAQ: VVUS) surged higher Wednesday on a 13D filing from Aspen Investment Fund, indicating the fund was "contemplating a conditional non-binding offer to acquire the Issuer at a total consideration of $640 million." Aspen, represented by Cyprus attorney Zoi Potsi, took a 9.65% stake in Vivus. Vivus shares closed Wednesday at $4.95, a gain of 6%.
Stryker May Bid for Smith & Nephew
The Non-Offer::
Shares of medical technology company Stryker (NYSE: SYK) rose sharply Wednesday in the premarket on a report from Financial Times it was planning to make an offer for orthopedic technology company Smith & Nephew (NYSE: SNN) and had hired banks to assist in the process.
In response to the report, Stryker issued a statement saying it does not intend to make an offer for its rival for six months, as per UK rules.
Stryker shares closed Wednesday at $82.64, a gain of 3%, while Smith & Nephew also gained 3% to close at $83.05.
Posted-In: News Rumors Management M&A Movers
View Comments and Join the Discussion!