The Future Is Here: Google Unveils Plans For A Self-Driving Car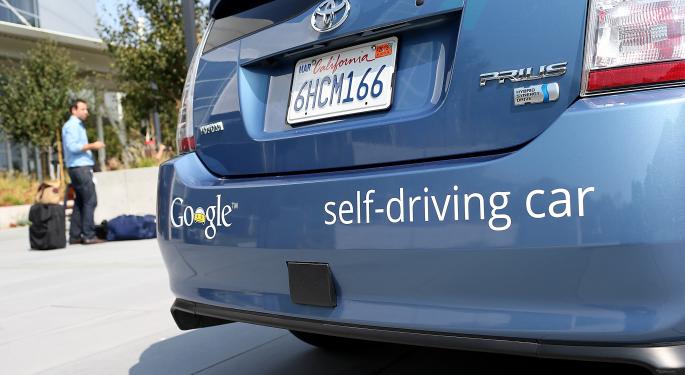 Is the self-driving car project just announced by Google (NASDAQ: GOOG) (NASDAQ: GOOGL) a game-changer?
On Tuesday, on its blog site, the internet giant unveiled its plans to build around 100 prototype versions of the fully self-driving vehicles. The company says the vehicles, which look a lot like early Volkswagen beetles but with a revolving sensor on the roof, will be "designed to operate safely and autonomously without requiring human intervention,"
The two-seat vehicles won't have a steering wheel, gas pedal or brake, says Google, "because they don't need them. Our software and sensors do all the work." The only controls inside the car are a start-and-stop button and a monitor showing the vehicle's route.
The prototypes, with a maximum speed of 25 mph, use sensors that the company says can detect objects out to a distances of more than 200 yards in all directions.
Related: GM Investing Heavily In Its Next-Gen Electric Vehicles And Batteries
Google says that, starting later this summer, it will begin testing versions of the self-driving vehicles equipped with manual controls. If the program goes well, it's considering a small pilot program in California over the next several years.
"We're going to learn a lot from this experience," the company continued on its blog, "and if the technology develops as we hope, we'll work with partners to bring this technology into the world safely."
Auto industry observers at Kelley Blue Book, meanwhile, appear to be both marveling at the self-driving vehicle concept – while tallying up all its business challenges.
Kelley Blue Book senior analyst Alec Gutierrez tells Benzinga the idea of a self-driving vehicle ranks up there with the flying car as one of those revolutionary and futuristic concepts.
"If there is one company that can help get the ball rolling, there likely isn't anyone better than Google," Gutierrez emailed. "Google has the resources, drive, and technological capability to get this done."
Related: Gas Prices Expected To Remain Stable Through Start Of Summer Driving Season
KBB senior analyst Karl Brauer says the Google project is just part of a "growing sense of disuption" the automotive industry's been experience over the past 15 years – with the introduction of new, online technologies.
"Recently we've seen an explosion in connected car technology and a growing interest in autonomous driving," he notes. "Google's intention to begin building cars is the next logical step in the evolution of personal transportation."
The analysts warn, however, that nothing will change overnight – that Google will first have to overcome major legislative, technological and business practice hurdles before it can move its self-driving car into a marketable reality.
And, of course, there's also going to be competition. CNET points out that Nissan, General Motors, Ford, Tesla and automotive supplier Continental area are all working on plans for self-driving cars, or semi-autonomous cars, to be ready for consumers by the end of the decade.
Posted-In: Alec Gutierrez automobiles. self-driving cars automotive industryNews Travel Events Tech General Best of Benzinga
View Comments and Join the Discussion!