Benzinga's M&A Chatter for Tuesday May 27, 2014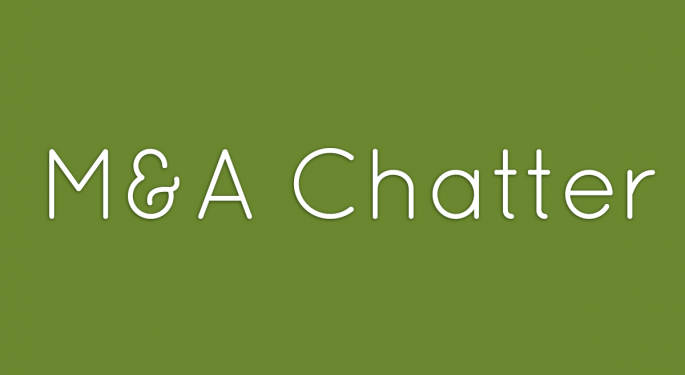 The following are the M&A deals, rumors and chatter circulating on Wall Street for Tuesday May 27, 2014:
SAP Reportedly in Talks to Acquire Tibco Software
The Rumor:
Shares of Tibco Software (NASDAQ: TIBX) rose in early trading Tuesday, on an article from German publication Der Aktioner, as mentioned by Deal Reporter, that SAP (NYSE: SAP) could have an interest in acquiring Tibco.
A spokesperson for SAP declined comment on the rumor, while a Tibco spokesperson was not available for comment.
Tibco shares gained more than 6% Tuesday, to close at $21.33.
Intuit to Acquire Check for $360M
The Deal:
Intuit (NASDAQ: INTU) confirmed Tuesday, Monday's report from Dow Jones it was acquiring mobile bill payment company Check, Inc., in a deal valued at $360 million in cash and other consideration. The deal is expected to close in Q4 of FY2014.
Intuit closed Tuesday at $80.14, a gain of $0.55.
Pilgrim's Pride Proposes to Acquire Hillshire Brands for $45.00/Share In Cash
The Offer::
Pilgrim's Pride (NYSE: PPC) announced Tuesday, a proposal to acquire Hillshire Brands (NYSE: HSH) for $45.00 per share in cash, for a total transaction value of $6.4 billion. One stipulation of the offer was the Hillshire abandon its offer for Pinnacle Foods (NYSE: PF). Hillshire announced on May 12, it was acquiring Pinnacle for $18.00 per share in cash, plus 0.50 shares of Hillsire stock.
Hillshire responded to the PPC offer saying they "continue to strongly believe in the strategic merits and value creation potential provided by the proposed transaction with Pinnacle Foods." As part of the company's fiduciary duties, the Hillshire Board will review the Pilgrim's Pride proposal.
Hillshire Brands shares closed Tuesday at $45.19, a gain of 22%. Pilgrim's Pride shares gained 1.5%, to close at $25.52. Pinnacle Foods shares lost more than 5%, to close at $31.48.
Posted-In: News Rumors Management M&A Movers
View Comments and Join the Discussion!