#PreMarket Prep Guest List For The Week of May 26, 2014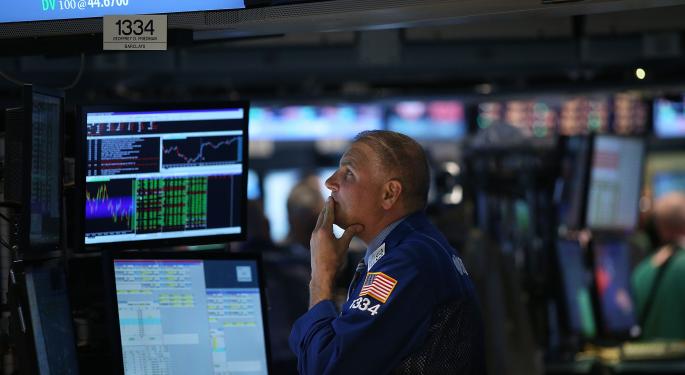 Note: There won't be a broadcast on Memorial Day, but the rest of the week is packed with guests who will share market insight.
Tune into the show at 8:00 am ET Monday-Friday here.
Tuesday, May 27, 8:35 a.m.
Nic Chahine (@racernic), Creating income with options spreads
Nic will join the show every Tuesday to discuss the week's options outlook.
9 a.m.
Chris Temple (@NatInvestor), Publisher of the National Investor
Chris analyzes and makes understandable for his readers "macro" events and markets the world over, ultimately coming up with a specific investment game plan which uses asset allocation, E.T.F.'s, individual stocks and the like.
9:15 a.m.
Steven Place (@stevenplace), Head Trader at Investing With Options
Steven Place is a professional trader specializing in swing trading equity options. He focuses on structuring trades to exploit quantitative models and technical analysis while minimizing risk through portfolio hedging.
Wednesday, May 28, 8:15 a.m.
John Melloy (@stocktwitsjohn), CEO of StockTwits
StockTwits CEO John Melloy was formerly the executive producer of CNBC's "Fast Money" and creator of the "Halftime Report." Prior to joining CNBC in 2006, Melloy was the team leader of U.S. Stock Market coverage for Bloomberg News.
8:40 a.m.
Josh Brown (@ReformedBroker), The Reformed Broker
Josh Brown is the CEO of Ritholtz Wealth Management and the author of widely popular financial blog The Reformed Broker. He'll be talking about his new book, "Clash of the Financial Pundits."
9 a.m.
Rahul Saraogi (@RahulSaraogi), Author of "Investing in India"
Rahul is the founder and managing director of Atyant Capital Advisors, advisor to the Atyant Capital family of funds. In the last 14 years he has focused on the Indian markets.
9:30 a.m.
Herb Greenberg (@herbgreenberg), Editor of Herb Greenberg's Reality Check
Herb Greenberg writes a daily blog for TheStreet and is a regular contributor for CNBC.
Thursday, May 29, 8:35 a.m.
Fari Hamzei (@HamzeiAnalytics), Founder of Hamzei Analytics
Fari will join the show every Thursday, bringing his wealth of knowledge on aggressive equity options and index futures trends.
8:50 a.m.
Brendon Marks (@bmarks10), Marketing Spokesperson at Hodges Capital Management
Brendon Marks is the marketing spokesperson for Hodges Capital Management, a $2 billion money management firm that specializes in small and mid cap companies. The Hodges Small Cap Fund boasts a top one percent category ranking for its performance over the past five years and has returned over 28 percent annualized.
9:15 a.m.
Pran Tiku (@prantiku), Author, "The Emerging Markets Handbook"
Pran Tiku is the principal and founder of financial planning firm Peak Financial Management, Inc., based in Waltham, Massachusetts which manages around $300 million in assets for high net worth and institutional clients.
Friday, May 30, 8:35 a.m.
Peter Leeds (@peter_leeds), Author of Peter Leeds Penny Stocks
Peter Leeds is the author of Penny Stocks for Dummies and Invest in Penny Stocks, was a contract writer for Forbes, and is a public speaker.
9 a.m.
Steven Blum (@StevenGBlum), Author of "Negotiating Your Investments
Steven Blum is a principal in the firm of Steven G. Blum and Associates, LLC and is an expert negotiator who works with corporations, individuals and nonprofits to refine their negotiating techniques.
9:20 a.m.
Darren Heitner (@DarrenHeitner), Partner at Miami Wolfe Law
Darren Heitner is licensed to practice on the state and federal level, and primarily focuses on sports, entertainment, and intellectual property litigation and transactional work. He is also the Founder/CEO of sports and entertainment consulting firm Dynasty Dealings, LLC.
Posted-In: Brendon Markets Darren Heitner Fari Hamzei Herb Greenberg Nic ChahinePre-Market Outlook Interview General Best of Benzinga
View Comments and Join the Discussion!