Google: 'We Don't Charge For Peering Or Fast Lanes'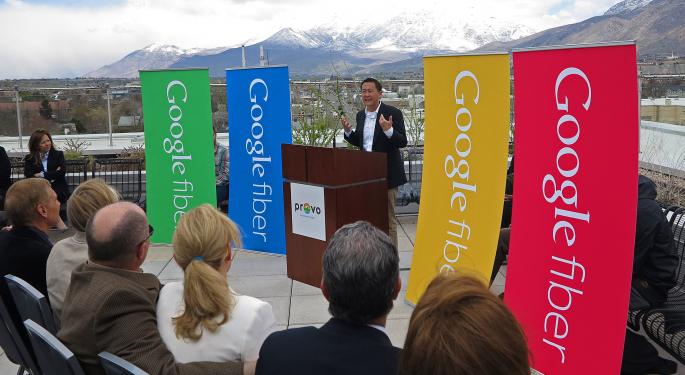 Google (NASDAQ: GOOG) just made itself both a leader and a "good guy" in the ongoing debate over net neutrality, including fast lanes and the practice of charging for peering.
In a blog post Wednesday the company said it did not charge a fee for either one on its Google Fiber networks.
In the blog post titled Working With Content Providers to Minimize Buffering, Google said, "Bringing fiber all the way to your home is only one piece of the puzzle. We also partner with content providers (like YouTube, Netflix, and Akamai to make the rest of your video's journey shorter and faster. (This doesn't involve any deals to prioritize their video 'packets' over others or otherwise discriminate among Internet traffic — we don't do that.)"
Related: Google Bests Apple In Brand Value; Tech Rules Top 100
Google's promotion of its relationship with Netflix in particular is important since Netflix has been in the news regarding pressure from Comcast and Verizon to pay peering fees.
Google called its "no charge" policy a win-win in which content providers can deliver high-quality streaming video and Google can save money when those providers collocate on Google's network – thereby saving the cost of transporting that content "thousands of miles."
GamePolitics also noted that Google owns YouTube, the second largest video service in North America. More importantly, Google has interconnection (peering) deals with AT&T, Comcast, Verizon and others. Google's policy could be seen as putting pressure on other ISPs to reduce or eliminate their peering and/or fast lane fees.
The problem is that most people currently do not have access to Google's Fiber network. Google Fiber only exists in three markets – Kansas City, Austin, and Provo. According to BGR, however, that is about to change.
The company has been considering expanding to nine new locations - Atlanta, Charlotte, Nashville, Phoenix, Portland, Raleigh-Durham, San Antonio, Salt Lake City and San Jose.
The potential San Antonio move was particularly noteworthy since San Antonio is the location of AT&T's headquarters.
Google Fiber offers the fastest Internet speeds available in the U.S. at a whopping 1Gbps. The company has said it planned to increase that to 10Gbps in the future.
According to The Wall Street Journal, independent investment banking firm, Evercore Partners, predicted Google could add as many as three million Google Fiber customers in the next seven to nine years. That would make the network one of the top 10 in the country.
Meanwhile, Google's Net Neutrality "bark" could end up taking a "bite" out of profits for the competition.
At the time of this writing, Jim Probasco  had no position in any mentioned securities.
View Comments and Join the Discussion!
Posted-In: akamai AT&T Comcast Evercore Partners Google Google FiberTech Media Best of Benzinga