McDonald's CEO Defends Company's Marketing, Wage Scale During Shareholders' Meeting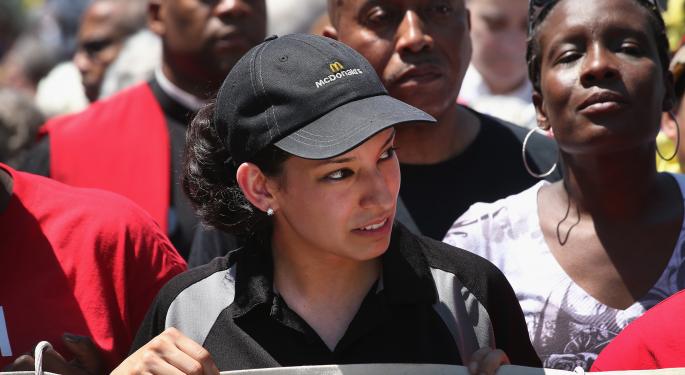 Fighting back against disruptive protests outside its corporate headquarters and strong criticism inside, McDonald's (NYSE: MCD) CEO Don Thompson defended his company's wage scale, as well as its marketing practices, during the company's annual shareholders' meeting.
Disgruntled McDonald's employees and social activists converged on the company's suburban Chicago offices. Close to 140 protestors were arrested outside, in what was called a peaceful demonstration.
Inside, at the meeting, activists criticised the fast-food giant.
Related: Dispatches From The Fast-Food Wars: McDonald's Revamp, BK's Good 1Q And Taco Bell Focuses On Foodies
"This corporation prioritizes profits over people," said Sriram Madhusoodanan with Corporate Accountability International, "whether it's predatory marketing to kids, inundating communities that already see soaring rates of diet-related disease, undermining your workers, or driving a slew of abuses throughout the food system."
"Moms are watching," added Sally Kuzemchak, a self-described mother, blogger and registered dietitian from Columbus, Ohio. "And what we're seeing looks like what tobacco companies did a couple of years ago, using Joe Camel as a kid-friendly mascot for cigarettes."
For his part, Thompson denied McDonald's was targeting child consumers.
"I have to say it again, every last one of the folks who are here...all of our folks are parents as well," he said. "It would violate a person's value set to go out and do something that, you know, would hurt children. It would be directly opposed to all of the things that we do, in the broader sense of our business."
And while there's been a rising chorus from McDonald's employees, demanding an overall pay raise, Thompson said the company continues to believe "that we pay fair, competitive wages...and we provide job opportunities and training for those entering the work force. We're trying to be a really great employer."
McDonald's sales, especially in the U.S., have been flat in recent months, as the global restaurant chain attempts to counter growing competition from Taco Bell, Burger King and others – especially in the highly-profitable breakfast meal market.
But Mickey-D's recent attempts to revamp its menu and its advertising have not gone particularly well, as witnessed by the recent backlash against the company's new mascot.
Posted-In: breakfast menu Corporate Accounability International Don ThompsonNews Restaurants Management Events General Best of Benzinga
View Comments and Join the Discussion!