Benzinga's M&A Chatter for Tuesday May 20, 2014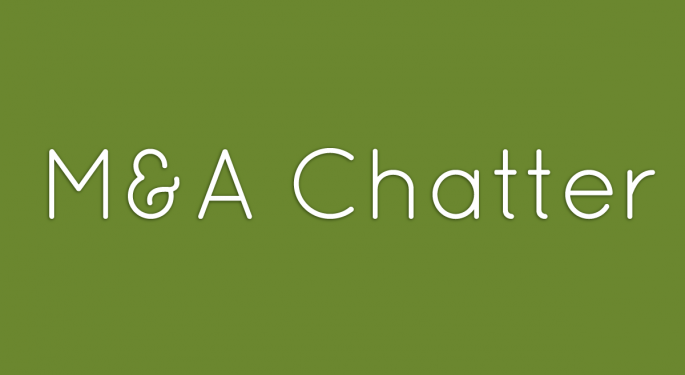 The following are the M&A deals, rumors and chatter circulating on Wall Street for Tuesday May 20, 2014:
AstraZeneca Shareholder wants Company to Engage Pfizer Regarding £55/Share Offer
The Shareholder Comment:
Shares of AstraZeneca (NYSE: AZN) rose 2% in the premarket, on call from a shareholder to for the company to reopen talks with Pfizer (NYSE: PFE). Schroders, AstraZeneca's 12th largest shareholder with a 2% stake, said in a statement Tuesday, it "would encourage the AstraZeneca management to recommence their engagement with Pfizer and subsequently their shareholders."
AstraZeneca rejected Pfizer's 'final' offer of £55.00 per share on Monday. AstraZeneca's Board says the offer "undervalues the company and its attractive prospects". UK takeover rules prevent Pfizer from increasing its offer, because it said the £55 offer was final and said it would proceed only if the bid was recommended by AstraZeneca's board.
AstraZeneca shares closed Tuesday at $72.20, a gain of more than 2%. Pfizer shares lost $0.03, to close at $29.25.
Verizon CEO says DISH Rumor is a Fantasy
The Denial:
Shares of Dish Network (NASDAQ: DISH) sold off Tuesday, on comments from the Verizon (NYSE: VZ) CEO that reports the company is in talks with Dish are "somebodys' fantasy'. Lowell McAdam, speaking at an investor conference, said while Dish has some interesting assets, "I don't feel that owning a satellite company is something that I'm finding intriguing at this point.' The Verizon-Dish rumor circulated on the heels of AT&T's (NYSE: T) announced $95/share deal for DirecTV (NASDAQ: DTV).
Dish Network shares lost 3% Tuesday, closing at $57.53.
Hearing Market Chatter of Cisco Interest in FireEye
The Rumor:
Shares of FireEye (NASDAQ: FEYE) rallied Tuesday, on unconfirmed market chatter of potential interest from Cisco (NASDAQ: CSCO). The lockup period on 82 million shares ends of Wednesday.
Spokespersons for the two companies were not available for comment.
FireEye shares closed Tuesday at $30.32, a gain of almost 5%.
Hearing Market Chatter Pandora Hires Goldman Sachs to Handle Potential Bids
The Rumor:
Shares of Pandora Media (NYSE: P) rose Tuesday, on unconfirmed market chatter the company has received interest from potential buyers. According to sources, Pandora has hired Goldman Sachs as an advisor to assist them in exploring options.
A spokesperson for Pandora declined comment on the rumor.
Pandora Media closed Tuesday at $25.03, a gain of 1.5%.
View Comments and Join the Discussion!