AstraZeneca Shareholders Have Mixed Feelings On Board's Quick Refusal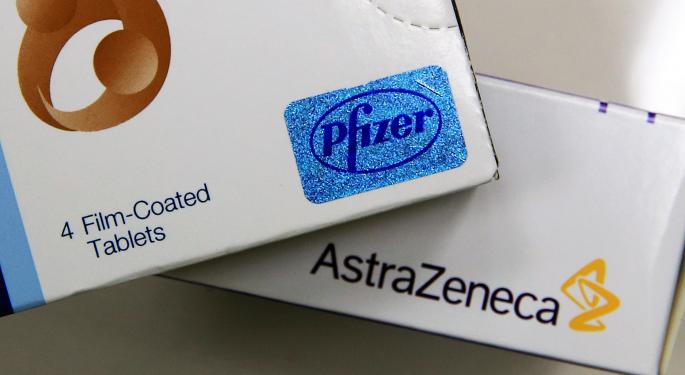 AstraZeneca PLC (NYSE: AZN) shareholders question the Board of Directors decision to flatly reject Pfizer's (NYSE: PFE) final bid of $92.53, or £55 per share.
Did AstraZeneca's Board Refuse Too Quickly?
According to Reuters writer Philip Whiterow, Schroders, who has a two percent stake in the company, was "disappointed with the swift rejection of Pfizer's £55 per share or £69bn offer and urged Astra's board to re-engage with the US company."
On Monday, Jupiter Fund Manager Alastair Gunn commented "We are disappointed the board of AstraZeneca has rejected Pfizer's latest offer so categorically. They should have at least engaged in a constructive conversation with Pfizer on the details of the offer to assess the opportunities that a combined entity could bring."
Related: General Motors And Toyota: History Repeating Itself?
Reuters continued, "There now seems little room left to manoeuvre with Pfizer having ruled out a hostile bid. We will be expressing our dissatisfaction to the AstraZeneca board over the way the bid process has been handled up to now."
Whiterow added that other large shareholders have been "more discreet," but still furious with AstraZeneca's decision to not consult with them.
Supporters Within The Masses
Amidst critiques of AstraZeneca's refusal, supporters agree that Pfizer could have offered a more impressive price. Leading AstraZeneca investor, Aberdeen Asset Management, has been skeptical on Pfizer's proposed deal early on. Aberdeen's CIO Anne Richards told BBC Radio, "The price is finely balanced. I think it's a good price that's on the table at the moment but probably they could do better than that."
Neil Woodford of Woodford Investment Management, an influential fund manager and major shareholder of AstraZeneca, revealed that he is behind the board's decision. BBC News Business editor Kamal Ahmed said Wooford told him, "I will make more money for my investors by AstraZeneca remaining independent...I could not see how one-plus-one [Pfizer and AstraZeneca merging] would create synergies and there are significant execution risks.
"What concerned me [about Pfizer] was their history. It would have been a business with a far less attractive pipeline [of drug developments]. Pascal Soriot has transformed this business. If he can do that in two years, what could he do in a longer time frame?"
Stock Action
Shares of AstraZeneca closed at $70.64 on Monday. The stock was up after trending lower following the company's rejection on the $119 billion takeover offer. The stock is currently trading at $72.47, up 2.59 percent.
View Comments and Join the Discussion!
Posted-In: AstraZeneca BBC News Pfizer ReutersOfferings Best of Benzinga