Benzinga's M&A Chatter for Monday May 19, 2014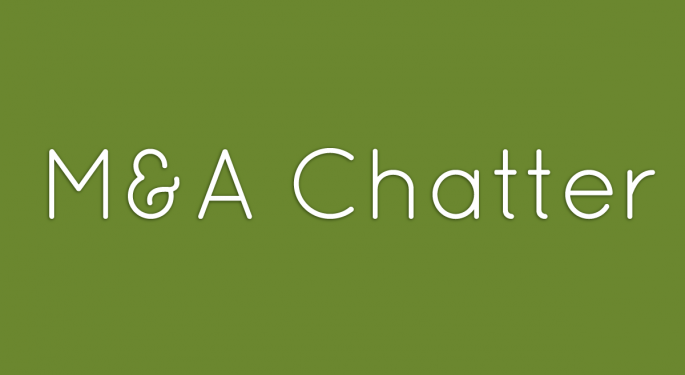 The following are the M&A deals, rumors and chatter circulating on Wall Street for Monday May 16 through Sunday May 18, 2014:
AstraZeneca Rejects Pfizer £55/Share Offer
The Rejection:
The Board of AstraZeneca (NYSE: AZN) rejected Pfizer's (NYSE: PFE) final proposal on Monday, consisting of £24.76 in cash and 1.747 Pfizer shares per AstraZeneca share, representing a value of £55.00 per AstraZeneca share, based on the closing price of Pfizer shares on May 16. AstraZeneca's Board says the offer "undervalues the company and its attractive prospects".
AstraZeneca's Chairman Leif Johansson, said there was no prospect of a deal before the May 26 deadline, or an extension of the deadline. Johansson said he participated in a one hour phone call with Pfizer on Sunday and that it was Pfizer who ended the discussions.
Pfizer did not respond to requests for comment on the rejected proposal.
AstraZeneca shares closed Monday at $70.64, a loss of 12%. Pfizer shares gained $0.24, to close at $29.28.
Dish Network Rumored to be in Talks with Verizon
The Rumor:
Shares of Dish Network (NASDAQ: DISH) surged higher Monday on a report from Deal Reporter that the company is in talks with Verizon (NYSE: VZ) regarding a possible deal. The rumor comes on the heels of AT&T's (NYSE: T) announced $95/share announced deal to acquire DirecTV (NASDAQ: DTV).
Spokespersons for Dish and Verizon declined comment on the rumor.
Dish Network shares closed Monday at $59.36, a loss of 1%.
Hearing Chatter of Potential IBM Deal for Tableau Software
The Rumor:
Shares of Tableau Software (NYSE: DATA) rose Monday on unconfirmed market chatter of a potential bid from IBM (NYSE: IBM).
Spokespersons for the two companies were not available for comment.
Tableau Software shares closed Monday at $57.66, a gain of 5.5%.
Google Acquires Divide
The Deal:
Google (NASDAQ: GOOG) is acquiring mobile-device-management startup, Divide. The announcement was made on Divide's website. Terms of the deal were not disclosed.
Google closed Monday at $528.86, a gain of 1.5%.
View Comments and Join the Discussion!