U.S. Directly Accuses Chinese Government Of Online Economic Espionage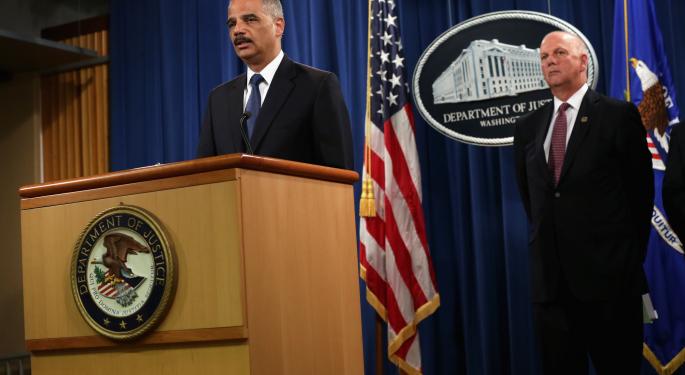 For the first time ever, the United States formally accused a foreign power of engaging in cyber-spying against U.S companies in order to steal trade secrets.
On Monday, U.S. Attorney General Eric Holder announced indictments against five officers in China's People's Liberation Army (PLA) for "serious cybersecurity breaches" against six American firms: Westinghouse Electric, a division of Toshiba (OTC: TOSBF) , Alcoa (NYSE: AA), Allegheny Technologies (NYSE: ATI), U.S. Steel (NYSE: X), the United Steelworkers Union and SolarWorld (OTC: SRWRY).
The five PLA officers are reportedly in China, and it is unlikely that Beijing will hand them over to the United States.
Related: Russia Threatens To Cut Off Gas To Ukraine, Preparing For 'Historic' Energy Deal With China
Holder said the indictments marked the first time charges had been brought against "known state actors" for hacking into U.S. commercial targets.
"In sum, the alleged hacking appears to have been conducted for no reason other than to advantage state-owned companies and other interests in China," he said in a prepared statement, "at the expense of businesses here in the United States. This is a tactic that the U.S. government categorically denounces."
China's Foreign Affairs Ministry denied the U.S. claims.
"The Chinese government, the Chinese military and their relevant personnel have never engaged or participated in cyber theft of trade secrets," it said in a statement. "The U.S. accusation against Chinese personnel is purely ungrounded and absurd."
China also took the U.S. government to task over its own, highly-publicized online surveillance activities.
Last year, the New York Times ran a lengthy report on China's extensive efforts to break into American corporations, organizations and government agencies via a special, Shanghai-based cyber-intelligence unit.
But Monday's announcement, says one analyst, is ground-breaking. Frank Cilluffo, head of the Homeland Security Policy Institute at the George Washington University, told Reuters it indicates "that DOJ has 'smoking keyboards' and [is] willing to bring the evidence to a court of law and be more transparent."
Bonnie Glaser, a senior Asia expert at the Center for Strategic and International Studies, says the carefully-prepared indictments also indicate that U.S. diplomatic efforts to discourage such cyber-hacking by China have not worked.
"The Chinese have ignored U.S. requests to stop stealing U.S. companies' intellectual property," she told theWashington Post. "The U.S. believes it is necessary to impose consequences for China's actions."
View Comments and Join the Discussion!
Posted-In: Bonnie Glaser ChinaNews Emerging Markets Events Global Markets Tech Best of Benzinga