Is A Google Glass Price Cut Around The Corner?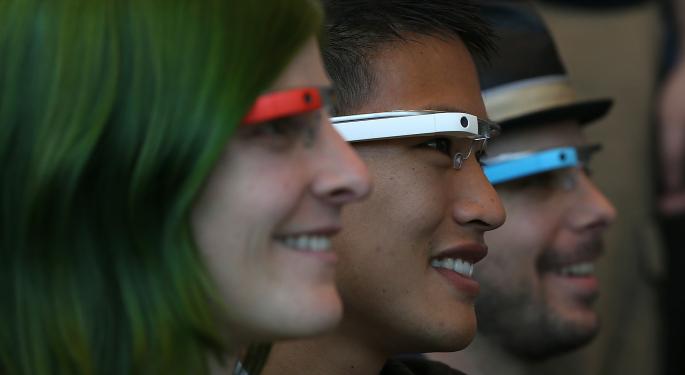 Google's (NASDAQ: GOOG) (NASDAQ: GOOGL) augmented reality glasses have become the company's most expensive product. Could that change in the near future?
According to IHS, Google Glass carries a BOM (bill of materials) of just $132.47. IHS estimated that Google spends another $20 on manufacturing, which brings the total production costs to $152.47.
If this estimate is accurate, it would mean that consumers are paying nearly 10 times more that Google's production cost for Google Glass.
"I believe that it should be easy, with some scale, to get the cost down significantly," Andrew Rassweiler, Senior Director of Cost Benchmarking Services for IHS, told Benzinga. "There are some relative unknowns; we have a number of analyst teams here who participate when we do this sort of cost analysis."
Related: Google Glass Will Rule Augmented Reality Market At Launch, Says Infinity AR CEO
"For example, our display team in Korea is most familiar with the LCOS (liquid-crystal on silicon) technology", Rassweiler continued. "They generated the estimate for that portion. I would say, if there's any mystery to us, it might be in more nascent technology like that LCOS projector."
That's not the only variable that could have increased Glass' production cost.
"There may also be some specialized equipment in assembly that we can't account for because we're not familiar with how they assemble the optics and how they put that together," Rassweiler added.
"If you have a problem with your yields, that can easily double or triple the cost of something. In other words, you produce a unit, you try to calibrate it, it's not coming out to spec, you have to throw out the unit and build again. So your yields could be 50 percent -- they could be 30 percent on some of these special components."
Rassweiler also estimated that a lot of the costs that would normally amortize into pennies are turning into "many dollars per unit."
Related: XBox One Price Cut Will 'Split The Market' Between Microsoft And Sony
"Still, this is a very unique case," he said. "I share, I guess to some degree, a bit of skepticism about how these costs can be so how high on a per-unit basis. But again, I'm gonna guess it has to do with, at every stage, every supplier that is kind of passing on these upfront costs to Google in one form or other."
"Now they may pass it on in the form of very high per unit costs. But typically that's not the way it works in the industry."
Consumer-Friendly Pricing
Google Glass may be an expensive item, but Rassweiler believes that a price cut could happen "very soon."
"Does it stand to reason that they could offer, you know, a price right now on the order of magnitude of an unsubsidized iPhone or less?" Rassweiler questioned. "I would say the answer is yes, very soon."
Rassweiler also said that while he does not necessarily think that Google will reduce the price by subsidizing the cost, it is a possibility.
Disclosure: At the time of this writing, Louis Bedigian had no position in the equities mentioned in this report.
View Comments and Join the Discussion!
Posted-In: Andrew Rassweiler comments Google Google Glass IHSTech Best of Benzinga