1,000 Ounces Of Gold Recovered In Marine Exploration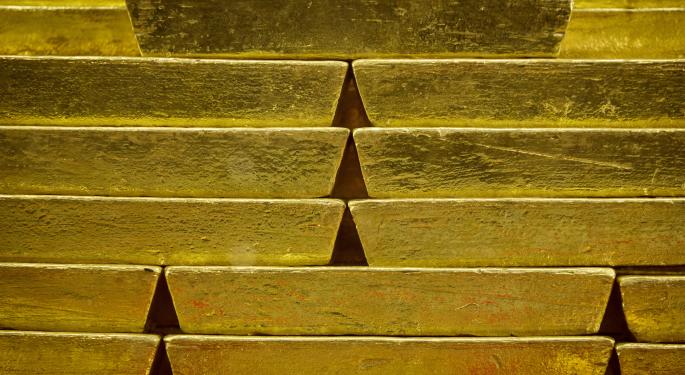 Nearly 1,000 ounces of gold has been recovered during a reconnaissance dive to the SS Central America shipwreck site by Odyssey Marine Exploration (NASDAQ: OMEX).
Five gold bars and two $20 Double Eagle gold coins were recovered from the ship. The coins were minted in the 1850s - one in San Francisco and the other in Philadelphia. The gold bars weigh between 106 and 344 ounces.
The SS Central America was 160 miles off of the South Carolina coast when it got caught in a hurricane and sank in September of 1857. It was carrying one of the largest documented cargoes of gold ever lost at sea. The shipwreck and loss of so much gold left public confidence in the economy and eventually led to the Panic of 1857.
Related: How One Entrepreneur Reuses Detroit's Devastated Homes
The wreck remained undisturbed until it was discovered in 1988 by engineer Thomas Thompson and his crew, who recovered an estimated $400 million worth of gold coins and bars.
During the dive in April, the gold and other artifacts could be seen on the surface of the site by Odyssey's remotely operated vehicle.
The main purpose of the reconnaissance dive was to access the condition of the shipwreck and see if it had been disturbed since it was last visited in 1991. Odyssey's research indicated that there is still a substantial amount of and interesting artifacts left on the site.
What the Florida-based company didn't expect was to see gold lying on the surface of the site, Odyssey spokesperson Liz Shows told Benzinga.
"The significance of the discovery of additional gold is that it confirms the sit has remained undisturbed, and there is additional gold on the site to recover," Shows said.
The recovered gold has been documented and secured in a safe location. A crew of 41 aboard the Odyssey Explorer, the company's research vessel, are conducting a full pre-disturbance survey. Once that's completed, an archaeological excavation will be conducted to recover the remaining gold.
The full value of the retrieval can't be determined until the total quantity, quality and form of the recovered gold and other artifacts is know.
View Comments and Join the Discussion!
Posted-In: comments Gold Liz Shows Odyssey Marine ExplorationNews Events General Best of Benzinga