Fred Wilson: By 2020, Apple Will Not Be A 'Top Three' Tech Company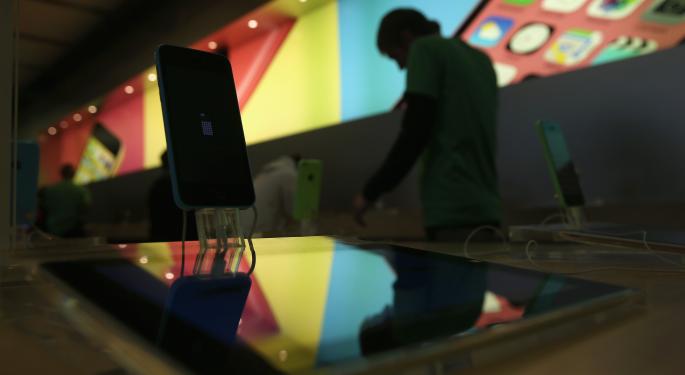 Saying Apple (NASDAQ: AAPL) was too rooted in hardware at the expense of data and the cloud, Fred Wilson of Union Square Ventures predicted Monday that the company wouldn't even be in the top three tech companies by 2020, according to TechCrunch.
Wilson spoke at the TechCrunch Disrupt conference in New York City, where he said the tech leaders in six years would be Google (NASDAQ: GOOG) (NASDAQ: GOOGL), Facebook (NASDAQ: FB), and "one that we've never heard of."
Asked the name of the mystery company, Wilson said he didn't know who it was but added, "I sure hope I'm an investor."
Speaking with former TechCrunch CEO Michael Arrington, Wilson said he thought Twitter (NYSE: TWTR) would be "four, five, six, seven, " but was not sure it would be number two or three.
Related: Hold Off On Buying That Apple TV!
Wilson famously sold all his Apple stock in 2009 for $91.36 per share after Steve Jobs issued a statement about his own health that Wilson believed was misleading. At the time Wilson said, "As good as the company is, I just can't own a stock when I don't believe the company is being straight with investors."
Apple closed Monday at $600.96, representing an increase of 578 percent since 2009. Hardly the kind of numbers one would associate with a company headed for relative obscurity.
The reason Wilson said he believed Google would be a top three tech company in 2020 was simple, and the polar opposite of why he said he believed Apple was doomed.
"[Google's] strategy of getting all of us to use more and more of their products for free, and put more and more of our data in their cloud, and do more and more machine learning on that, and provide more and more services to us based on that, is an incredible strategy."
The venture capitalist, who gained attention with investments in Twitter, Tumblr, Foursquare and others, has also been known to have a soft spot in his heart for Android, especially when compared with iOS.
In April 2011, Wilson wrote, "I believe the mobile OS market will play out very similarly to Windows and Macintosh, with Android in the role of Windows. And so if you want to be in front of the largest number of users, you need to be on Android."
At the time of this writing, Jim Probasco had no position in any mentioned securities.
Posted-In: Android Apple Facebook Foursquare Google iOS Steve JobsTech Best of Benzinga
View Comments and Join the Discussion!