Apple's Next Big Innovation: Banking, Credit Cards And Other Financial Services?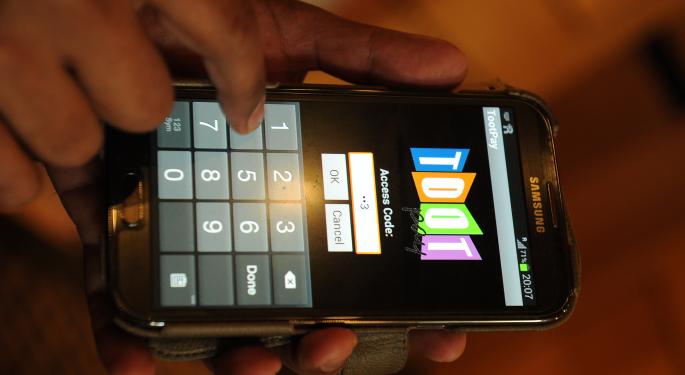 Would you deposit your check directly into the App Store?
Some iPhone-obsessed consumers might be willing to do that every once in a while, but most would still prefer to access their money through more traditional methods (such as an ATM).
Apple (NASDAQ: AAPL) is unlikely to provide that option to consumers -- or any other financial services outside of mobile payments -- anytime soon. But former E*TRADE (NASDAQ: ETFC) President and COO Jarrett Lilien thinks that Apple should strongly consider the benefits of entering the financial services industry.
"Nobody trusts banks or brokers," Lilien told Benzinga. "There's an emerging power class -- which is the millennials -- they do things differently. If you're already in-synch with this power class, which all of these [tech] companies are because they're already delivering things in the language of millennial. [That] also means you've got the right transparency, you've got the right type of sociability, collaborative tools, and communication."
Lilien, who now serves as the Chairman and CEO of Kapitall, admitted there are a lot of reasons why Apple and other tech giants should not enter the financial services space.
Related: Will Apple's Stock Split Increase Its Marketability?
"If I were the CEO of one of those companies, I might say, 'No way,'" said Lilien. "I know they're all afraid of the idea of being in a regulated industry. There are many reasons why they shouldn't do it. But from where I sit, they could really change the landscape and I'd love to see those guys be players in financial services."
Apple's iBank
In the event that Apple did take the plunge, Lilien has a number of ideas for how it could play out.
"I think you could do it a couple ways," said Lilien. "You could directly become a banker or a broker, and that's sort of tackling it head-on. You could do some great things with your own credit cards, which everybody does anyway."
iRewards, anyone?
"But you don't have to go that route either," Lilien added.
Instead, Lilien would like to see OMS (order management systems) and EMS (execution management systems) developed for retail traders.
"Retail could use that," he said. "That's an idea that I think would be great for [Apple and] other players. They could avoid the regulation. They could avoid themselves having to be a bank or a broker, but they could provide access to multiple banks and multiple brokers. It would be an additional revenue stream for them, but they could be the ones that pulled together this puzzle and provided customers with this truly integrated, new-age service."
Disclosure: At the time of this writing, Louis Bedigian had no position in the equities mentioned in this report.
Posted-In: App Store Apple bankingNews Topics Tech Interview General Best of Benzinga
View Comments and Join the Discussion!