Marijuana Weekly Roundup: Airplane Passenger's Questionable Luggage Contents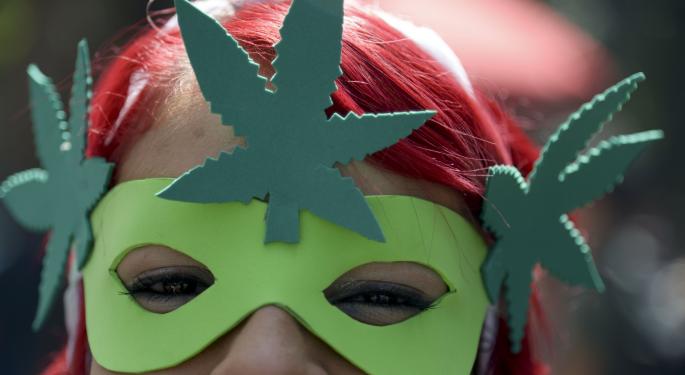 Marijuana Market Regulations Released in Uruguay
Uruguay, which legalized marijuana for recreational use in December, announced market regulations for the sale and production of marijuana Saturday. Purchasing marijuana will require a license, and users will only be able to purchase up to 10 grams per week.
The cannabis sold will be limited to five different strains that contain a maximum level of 15% THC, and will be registered in a genetic database in order to enable authorities to trace the origin and legitimacy of the product.
The marijuana will be sold in bar-coded, radio-frequency tagged bags that will be printed with warning labels (similar to cigarettes). Users will be permitted to grow up to six plants per household, and smoking will be limited to private homes and open-air areas.
Related: Is Netflix Turning Your Cable Box Into A VCR?
While commenting on the newly established market regulations, Uruguayan President José Mujica was incredibly critical of Colorado's new cannabis policies.  
President Mujica told the Associated Press that "It's a complete fiction what they do in Colorado," and that doctor prescribed marijuana in the United States is "brutal hypocrisy."
Mujica is set to visit President Obama at the White House next week.
Florida Governor Backs Medical Marijuana Bill
A medical marijuana bill has worked its way through the Florida House, and is expected to be approved in the state senate. In a surprise move, Republican Governor Rick Scott announced Thursday that, if the bill is passed in the legislature, he will sign it.
The bill would permit low-THC cannabis to be used to treat children suffering from severe epilepsy as well as patients suffering from chronic seizures. The bill also allows for specific strains to treat patients with cancer and persistent muscle spasms.
Most of the primary opponents to the upcoming November medical marijuana ballot bush are in support of this bill, including the Florida Sheriffs Association.
Washington Announces Marijuana Business Lottery Winners
The results of Washington's marijuana business lottery to fill the 334 available cannabusiness permits in the state have been posted. The Washington Liquor Control Board has awarded the licenses, but winners will have to go through a vetting process that includes a background check --and a full investigation into the licensee's financial history.
DEA Claims Marijuana Trade Booming For Colorado's Neighbors
While speaking before the Senate Judiciary Committee, DEA administrator Michele Leonhart expressed concerns regarding the expansion of marijuana trafficking in Colorado's surrounding states.
Leonhart noted that law enforcement expected this to happen, and built on the DEA's Chief of Operations January comment that legalization at the state level is "reckless and irresponsible." She claimed that, since legalization of recreational sales of cannabis in Colorado to adults on New Year's Day, marijuana seizures have seen a  61% increase in Kansas.
The agency is concerned this phenomena will be repeated following the implementation of legal marijuana in Washington state, and remains committed to to cracking down marijuana use by minors.
81 Pounds of Marijuana Found In Checked Luggage
A 26-year-old woman was arrested Friday at Oakland International Airport, after trying to bring 81 pounds of marijuana home with her in checked luggage.
Jackson Mississippi native Anastasia Murdock was flying home with layovers in Phoenix and Dallas,but is now in custody.
Posted-In: cannabisNews Commodities Events Startups Markets Media General Best of Benzinga
View Comments and Join the Discussion!