Benzinga's M&A Chatter for Thursday May 1, 2014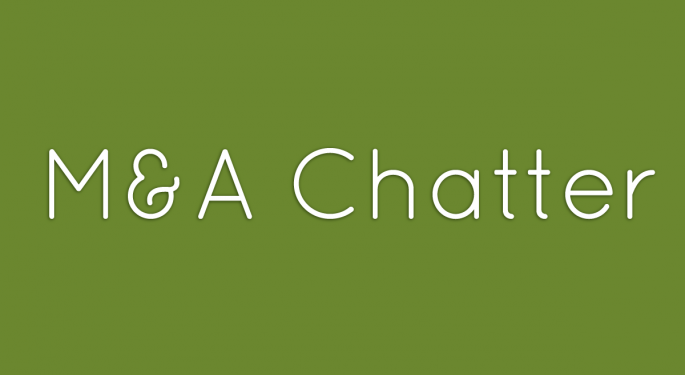 The following are the M&A deals, rumors and chatter circulating on Wall Street for Thursday May 1, 2014:
Report AT&T in Talks to Acquire DirecTV
The Rumor:
AT&T (NYSE: T) is said to have approached DirecTV (NASDAQ: DTV) regarding a potential acquisition, according to a report from the Wall Street Journal. The deal could be worth $40 billion, according to sources.
Spokespersons for both companies declined comment to Benzinga on the report.
DirecTV closed Thursday at $80.76, a gain of 4% on more than twice average volume.
Pfizer May Raise Bid for AstraZeneca to $106M
The Rumor:
Pfizer (NYSE: PFE) plans to raise its bid to around $106 million for AstraZeneca (NYSE: AZN), according to sources being reported by Bloomberg. The offer would value AstraZeneca at more than £50 per share. Sources say, the new offer could come as early as next week.
AstraZeneca confirmed on April 28 that they had rejected Pfizer's $76.62 per share offer.
AstraZeneca closed Thursday at $81.09, a gain of 2.5%. Pfizer closed at $31.15, a loss of $0.13.
Microsoft Acquires Cloud-Computing Company GreenButton
The Deal:
Microsoft (NASDAQ: MSFT) announced on its blog Thursday the acquisition of cloud computing company Greenbutton. Microsoft says the existing GreenButton service will no longer be available to new customers and a new service integrated in Azure will be launched later in the year.
Terms of the deal were not disclosed.
Microsoft closed Thursday at $40.00, a loss of $0.40.
Report Bayer Near Deal to Acquire Merck Consumer Unit
The Rumor:
Bayer (OTC: BAYRY) is reportedly close to a deal to acquire the consumer products unit from Merck (NYSE: MRK), according to sources reported by Bloomberg. According to sources, the bid will be around $14 billion.
Reckitt Benckiser (OTC: RBGPF) said on Wednesday it was no longer in talks with Merck regarding a deal.
Merck closed Thursday at $59.62, a gain of almost 2%.
View Comments and Join the Discussion!