5 Candidates To Purchase The Los Angeles Clippers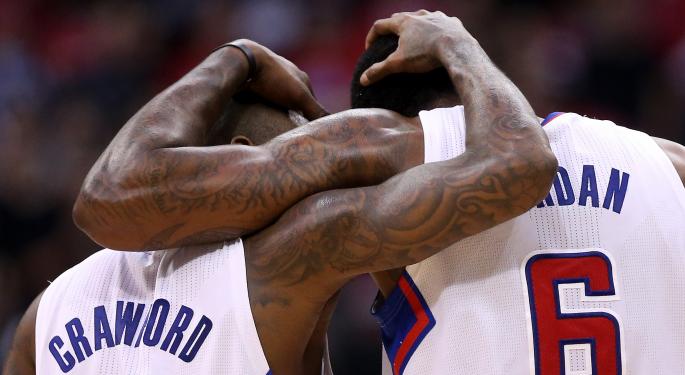 The state that voted the biggest action movie star ever its governor and whose capital city's mayor-ship is in the hands of a former NBA all-star may have its once sad-sack franchise open for bidding.
The fun is just beginning.
Donald Sterling will soon be out. That's the plan NBA Commissioner Adam Silver laid out on Tuesday afternoon, at least.
Twenty-nine league owners will need to come to a 3/4 vote in order to force Sterling to sell the franchise; with multiple owners already voicing their support of Silver's decision, that appears to be almost a guarantee.
Sterling, however, is considered one of the most litigious owners in the league and all of professional sports. He moved the franchise from San Diego to Los Angeles in 1984, without the NBA's approval for relocation, and the league fined him $25 million. Sterling sued the league for $100 million and withdrew the suit when the league agreed to reduce his fine to $6 million.
Related: NBA Brings Down The Hammer On Clippers' Owner: Now What?
Sports Illustrated's Michael McCann reported on Tuesday that "several attorneys familiar with NBA litigation [say] that the possibility of an antitrust lawsuit by Sterling is high." Sterling, 80 years old and worth nearly $2 billion, could wrap himself up in a public relations nightmare if he goes to court.
Forbes values the Clippers at $575 million, but many around the league say the franchise could go for over $1 billion. In the meantime, let's look at who could one day reign over Lob City.
Magic Johnson
Johnson's post-playing career is nothing short of successful. He has been a studio analyst for a number of years with various networks and founded a self-named enterprise company in 1987. He was worth an estimated $500 million in 2009, according to Forbes.
His ownership group paid $2 billion for the Los Angles Dodgers in 2012, that deal also coming off the heels of an ownership scandal. Yahoo Sports has already said, "The Dodgers group is serious about owning an NBA team, and the league knows it."
Larry Ellison
He is one of the richest men in the entire world, but the Oracle (NYSE: ORCL) CEO has come up empty in his quest to own a sport's franchise.
Ellison does have some ties to the NBA already: the Oakland Coliseum, home to the Golden State Warriors since 1971, was renamed the Oracle Arena. The company, who in 2013 had an operating income of $14.6 billion, purchased the naming rights for 10 years in 2006.
Who else could be involved to strengthen Ellison's bid this time around? Oprah Winfrey and David Geffen, according to ESPN.
Chris R. Hansen
Hansen is a hedge fund manager who founded Valiant Capital in 2008. The portfolio management company is worth over $2 billion. Hansen's attempts at purchasing a franchise may come with one big caveat -- moving that team to his former hometown of Seattle.
Seattle lost its franchise to Oklahoma City in 2008, but former NBA Commissioner David Stern said that if a franchise were to form or move to the area, they would inherit the team's former history and colors. Hansen and former Microsoft (NASDAQ: MSFT) CEO Steve Ballmer in 2012 failed in their $625 million bid to buy the Sacramento Kings.
Related: Donald Sterling 'Controversy' Goes Far Beyond The Tape
Floyd Mayweather
The world's brashest athlete, who continues to pile box office and pay-per-view records, has made it clear he'd like in on the Clippers. He made the announcement within hours of Silver's press conference.
"I called Al today about that to see if me...and a couple of other guys, a couple other of my billionaire guys, we can come together and see what we can come up with," said Mayweather, as reported by ESPN. "Hopefully, we can do it, and it's not just talk."
It may be difficult for Mayweather to be approved, however. in 2011, the boxer served 90 days in jail for misdemeanor battery charges brought about by an ex-girlfriend, an incident that took place in front of his young children. He brings a lot of money and hype to the table, but the NBA may not want to deal with the potential public backlash following the Sterling decision.
Shelly Sterling
A transfer of ownership is probably the last thing the NBA wants, but still a small possibility. The Sterling's married in 1955, but have been estranged for some time now, though not officially divorced. She may not be very much involved with Donald on a personal level, but she has reportedly been involved in some unflattering business activity, not far removed from her husband's issues.
View Comments and Join the Discussion!
Posted-In: Adam Silver Chris Hansen David Geffen Donald Sterling ESPNNews Topics General Best of Benzinga