Benzinga's M&A Chatter for Tuesday April 29, 2014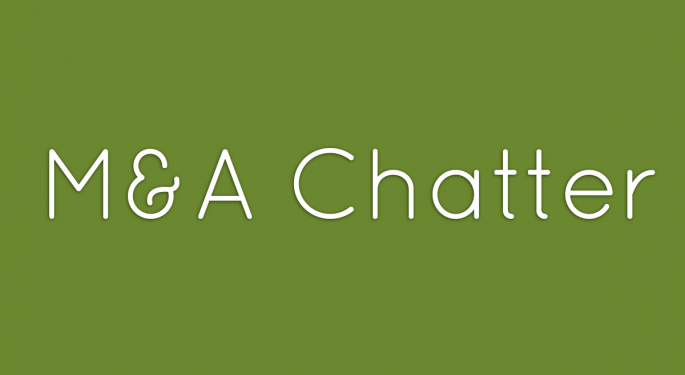 The following are the M&A deals, rumors and chatter circulating on Wall Street for Tuesday April 29, 2014:
Alstom Reportedly Accepts GE $12B+ Bid for Energy Unit
The Rumor:
General Electric (NYSE: GE) has offered more than $12 billion for Alstom's energy unit, according to Dow Jones. Alstom's Board reportedly accepted the offer, according sources. The report says that Alstom will not actively seek other offers, but will only entertain unsolicited bids from other potential buyers.
An Alstom spokesperson responded to Benzinga in an email, saying that an announcement would be made no later than Wednesday morning.
General Electric closed Tuesday at $26.76, a loss of $0.02. Shares of rival bidder Siemens lost $.40, to close at $128.95.
Report Allergan Asks JNJ, Sanofi to Submit RIval Offers to Valeant Bid
The Rumor:
Johnson & Johnson (NYSE: JNJ) and Sanofi (NYSE: SNY) reportedly were contacted by Allergan (NYSE: AGN) to see if they were interested in submitting competing offers to the one made by Valeant (NYSE: VRX). On April 22, Valeant submitted an offer consisting of $48.30 per share in cash, plus 0.83 Valeant shares.
Spokespersons for JNJ and Sanofi declined comment on the report.
Allergan closed at $165.63, a loss of $0.37.
Report Sanofi Exploring Sale of Mature Drugs Portfolio
The Rumor:
Sanofi (NYSE: SNY) has hired Evercore Partners to assist in the sale of a portfolio of mature drugs valued at $7 billion to $8 billion, according to Reuters. The portfolio includes treatments for high blood pressure and cardio-metabolic diseases. According to sources, generic drugmakers and specialty pharmaceutical companies are the most likely buyers.
Sanofi closed Tuesday at $53.33, a loss of $0.42.
View Comments and Join the Discussion!