Google Driverless Car Getting Smarter About City Driving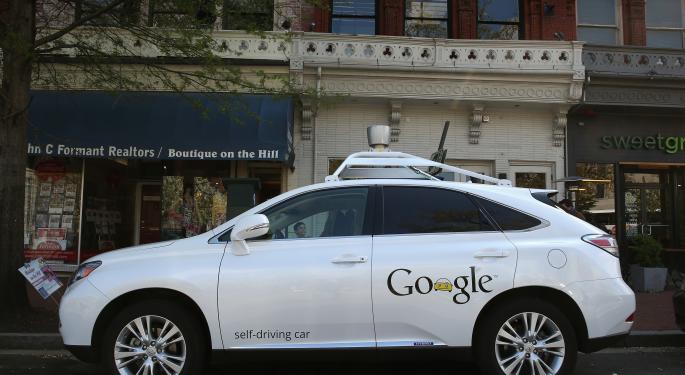 If you are like the many people who hate driving in downtown traffic, you will be pleased to know that Google (NASDAQ: GOOG) has been working on a solution – a driverless car that can negotiate city streets.
According to a recent blog post, the company has shifted the focus of its self-driving car from highway driving to mastering city streets. Moreover, there has been significant progress.
Google said it logged thousands of miles in Mountain View, California – not exactly New York City, but downtown nonetheless. As a result, the car's software was improved to detect "hundreds of distinct objects simultaneously."
Related: Google Glass Is Going To Work
Those distinct objects included pedestrians, buses, crossing guards, cyclists signaling a turn, all part of the downtown landscape. More importantly, Google said, a self-driving vehicle never gets tired or becomes distracted or confused.
In the blog post Google said, "As it turns out, what looks chaotic and random on a city street to the human eye is actually fairly predictable to a computer."
Until recently, Google focused mostly on highways in Nevada, where self-driving vehicles became legal in 2011. The only accidents reported were either when a human was driving the car when another driver caused an accident.
In addition to Nevada, California, Florida, and Michigan allow autonomous vehicles. In all states, however, a human driver is required to be behind the wheel.
Despite the progress, much remains to be learned about driverless cars and city streets before they would be considered safe.
The Google car's technology includes a laser radar system and range finder that creates detailed 3D maps of surroundings.
The YouTube video (below) shows a Google car negotiating city streets.
As future city miles roll by, Google's driverless car would need to accumulate additional data and undergo more testing to ensure safety before 2017 when Google said it hoped to "autonomous driving" technology to the public.
With traditional carmakers rolling out features like accident-avoidance braking and acceleration on a piecemeal basis, Google has stood alone as an enterprise dedicated to a fully functional driverless car.
David Alexander, analyst with Navigant Research told The Associated Press, "I think the Google technology is great stuff. But I just don't see a quick pathway to the market." Alexander added that he did not see commercial availability of self-driving cars any sooner than 2025.
At the time of this writing, Jim Probasco had no position in any mentioned securities.
Posted-In: driverless cars Google YouTubeNews Events Media Best of Benzinga
View Comments and Join the Discussion!