Germany's Lufthansa Teams Up With Gevo To Test Biomass Jet Fuel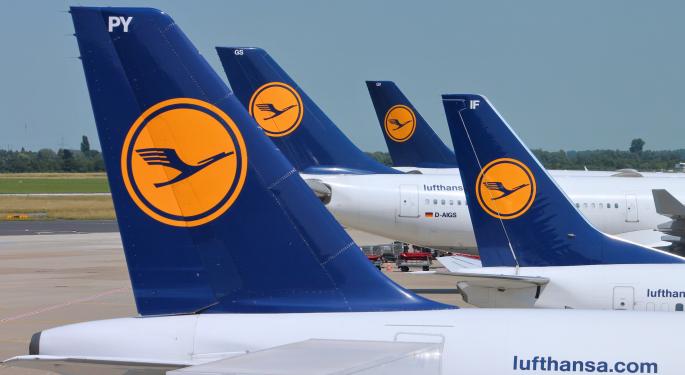 The aviation industry has come roaring back into the black after the dark years following the 9/11 terror attacks and the effects of the Great Recession. But one place where the industry still finds its profits being eaten away is in fuel costs.
Last month, according to the Dallas Morning News, the International Air Transport Association projected the airline industry to bring in $18.7 billion in profits for 2014 – a 45 percent rise from 2013 and three times the overall industry profit in 2012. That $18.7 billion projection was actually lowered by $1 billion, however, due to rising fuel costs.
A major commercial airline company, meanwhile, says it plans to start practical tests of renewable biofuels. This could end up powering its jets while reducing their carbon footprint and holding down fuel costs.
Related: U.S. Gas Prices Expected To Be Slightly Lower This Summer
Germany's Lufthansa Group (OTC: DLAKY) has announced test plans for what it calls "a promising new production method for biokerosene." The so called "Alcohol to Jet" (ATJ) fuel comes from the fermentation of mostly plant and feedstock wastes to form isobutanol, also known as isobutyl alcohol, which is then dehydrated and refined into kerosene.
The airline is working with Gevo (NASDAQ: GEVO), a Colorado-based renewable chemicals and biofuels company, to evaluate Gevo's ATJ product for commercial aviation use. The testing by Lufthansa is reportedly receiving support from the European Commission.
Successful development of a sustainable, renewable jet fuel could be a game-changer for the aviation industry. "Renewable jet embodies the potential of cleaner, greener, and as we scale up, cost competitive drop-in fuels," Patrick Gruber, Gevo's CEO, said in a press statement.
This isn't the first time Lufthansa has experimented with biosynthetic jet fuels. In 2011, according to Reuters, the carrier became the first global airline to use a 50/50 blend of biofuel created from plant oils and animal fats, as well as conventional kerosene, to power one engine per plane on daily fights between the German cities of Frankfurt and Hamburg.
Posted-In: News Commodities Travel Events Global Economics Markets Media Best of Benzinga
View Comments and Join the Discussion!