Feds Rethink And Reverse Decision Regarding Powdered Alcohol Products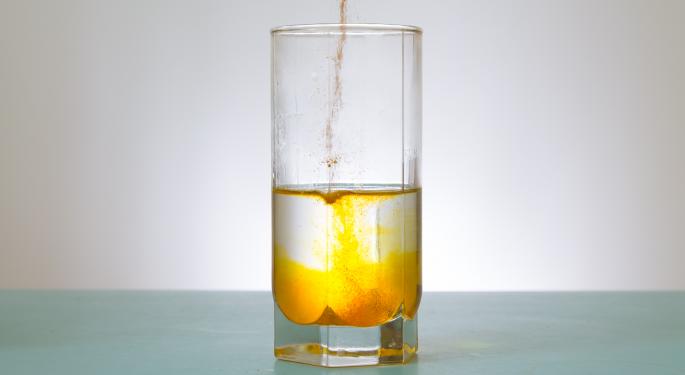 Is powdered alcohol a product for our times or a concept that still needs some tinkering with?
The blogosphere has been chock ablock with references to the story about Lipsmark LLC, a Tempe, Arizona-based company and its "Palcohol" powered cocktails. Palcohol's products were reportedly approved last week by the federal Alcohol and Tobacco Tax and Trade Bureau (TTB),  a division of the Treasury Department.
But then Lehrman Beverage Law, a Washington, D.C.-based firm that focuses on federal regulation of alcoholic beverages, delved further into the issue.
Related: Breakfast Blues: Why Have The Costs Of Eggs, Bacon And Coffee Gone Up?
The firm's Bevlog blog noted that, while the idea of selling powered alcohol to consumers wasn't surprising, it was pretty astonishing that the product was approved.
"The person that pushed this through must be very patient or lucky and/or good," the website continues. "The product seems highly likely to raise a large number of legal issues and controversies," especially regarding potential liability claims for its misuse.
But then, on Monday, the TTB told CNN Money it has approved the Palcohol products "in error." For its part, the Palcohol website said there was "mutual agreement for us to surrender the labels" of the products mentioned.
"This doesn't mean that Palcohol isn't approved.," the website continued. "It just means that these labels aren't approved. We will re-submit labels. We don't have an expected approval date as label approval can vary widely."
The concept of just-add-water cocktails is nothing to sneeze at. The Beverage Media Group reports that so-called Ready-to-Serve (RTS) cocktails, such as Brown-Forman (NYSE: BF-B) line of pre-mixed Jack Daniels drinks , sold over 6.8 million nine-liter cases in 2011, a six percent increase over the previous year.
And Bevlog points out there are patents for just-add-liquid alcoholic powder going back nearly 50 years. It also notes that companies such as Sato Foodsin Japan and several European firms are already marketing powdered alcohol for ready-mix drinks.
Palcohol, meanwhile, is reportedly planning to resubmit its products for federal approval.
Posted-In: Alcohol and Tobacco Tax and Trade Bureau alcoholic beverages food and beverageNews Restaurants Events Media General Best of Benzinga
View Comments and Join the Discussion!