Breakfast Blues: Why Have The Costs Of Eggs, Bacon And Coffee Gone Up?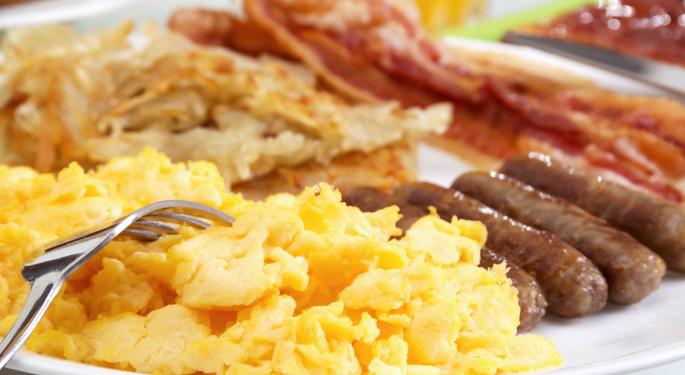 If you haven't already noticed, a hearty breakfast of bacon and eggs, with some coffee and orange juice on the side, is costing you more – at both the local diner and the supermarket checkout.
A combination of drought, disease and supply chain issues are creating problems worldwide for many food staples.
The Associated Press, quoting government data, reports the cost of meats, fish and eggs rose 1.2 percent in February – a rise of four percent over the previous 12 months and the biggest jump for food prices in over two years.
For bacon-lovers, the problem has been a disease called porcine epidemic diarrhea (PED) that has killed off millions of piglets. The virus, which may have come from China, has reportedly reduced the U.S. pig herd by about three percent over the past several months.
Related: Major Food Recalls Reported Over The Weekend
"U.S. production is going to decline this year about seven percent and that will probably translate into 10 to 20 percent higher prices for pork," Sam Hines, executive vice president of the Michigan Pork Producers Association, told CBS Detroit.
Another disease, Citrus Greening, is also devastating Florida's orange crop. The bacterial outbreak, according to The Wall Street Journal, has pushed orange juice prices to their highest levels in two years – and is projected to reduce the overall by about 18 percent from the previous harvest. Add on to that an ongoing drought in Brazil, the worst in decades, which is hurting another major producer of oranges.
Brazil is also the world's largest producer of coffee and the drought is dashing earlier expectations of lower coffee prices continuing in 2014. Coffee bean prices are reportedly up 85 percent so far this year, while coffee for July delivery jumped 8.1 percent to $2.04 per pound
And rising beef and chicken prices, due in part to long-term drought conditions across large areas of the nation's agricultural areas, are being blamed for the jump in the price of eggs – as consumers scramble to find other, less expensive sources of protein. Egg prices were reportedly up by more than seven percent over the past 12 months, reaching a six-year high of about $2.06 a dozen last month.
Posted-In: baconNews Restaurants Events Global Economics Media General Best of Benzinga
View Comments and Join the Discussion!