Major Food Recalls Reported Over The Weekend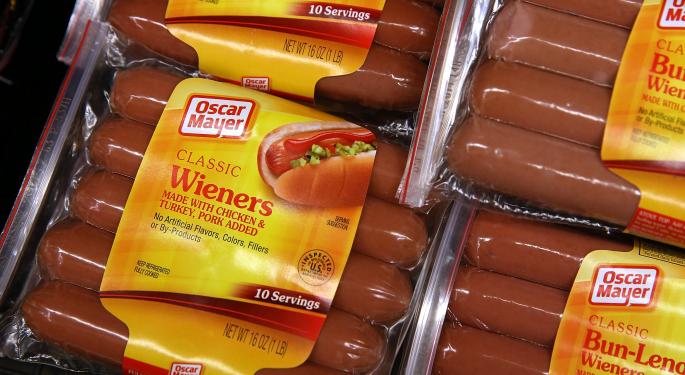 Two major food recalls, both due to labeling issues, were announced over the weekend.
On Sunday, Kraft Foods Group (NASDAQ: KRFT) said is recalling about 96,000 pounds of "Oscar Mayer Classic Wieners," because the products might be incorrectly labeled and may mistakenly contain cheese.
According to the U.S. Agriculture Department's Food Safety and Inspection Service (FSIS), "the products may contain 'Classic Cheese Dogs' in the 'Classic Wieners' packages," which could cause serious health problems for some people with milk allergens.
The affected products are:
16 ounce, individual consumer packages of "Classic Wieners Made with Turkey & Chicken, Pork Added" with a "USE BY 16 Jun 2014" date and product code "044700000632".
Cases of 16 ounce packages, distributed to retailers, of "Classic Cheese Dogs Made with Turkey & Chicken, Pork Added, and Pasteurized Cheese Product" with "USE BY 16 Jun 2014" date and case code "00447000005300".
The products were reportedly distributed to Kraft distribution centers and in retail stores nationwide. So far, FSIS and Kraft say they've received no reports about "adverse reactions due to consumption of these products."
Related: Beef Prices Are High, Herd Size Is Down -- But That's Only Part Of The Story
One day earlier, Georgia-based Prime Pak Foods announced the recall of around 24,000 pounds of fully-cooked, breaded chicken breast products "due to misbranding and undeclared allergens."
According to the FSIS the products involved in the recall were formulated with egg and wheat, both known allergens, but that information was not declared on the product label.
The recall was for:
Two five-pound bags in a 10-pound box of "Sugar Lake Farms Fully Cooked Breaded Chicken Breast Tenders," with the product code 77422 printed on the box.
Two five-pound bags in a 10-pound box of "Sugar Lake Farms Fully Cooked Spicy Breaded Chicken Breast Chunks," with the product code 77448 printed on the box.
Earlier this month, Tyson Foods (NYSE: TSN) recalled over 75,000 pounds of frozen, fully-cooked chicken nuggets, due to what the FSIS called ">possible foreign matter contamination."
More than 10.6 million units of food were reportedly recalled in the fourth quarter of 2013, a 52 percent increase compared to the same time period a year earlier.
However, the overall number of food recalls during that quarter was down 47 percent, compared to the third quarter – the time period when the U.S. government was briefly shut down during a political dispute. And according to the Food Poisoning Bulletin website, "that means each recall was for a much larger amount of food, which most likely affected more people."
View Comments and Join the Discussion!
Posted-In: Consumer Confidence food food recallNews Restaurants Events Economics General Best of Benzinga