Outdoor Hub Founder David Farbman Is On A Mission To Help Others Embrace Their "Inner Hunter"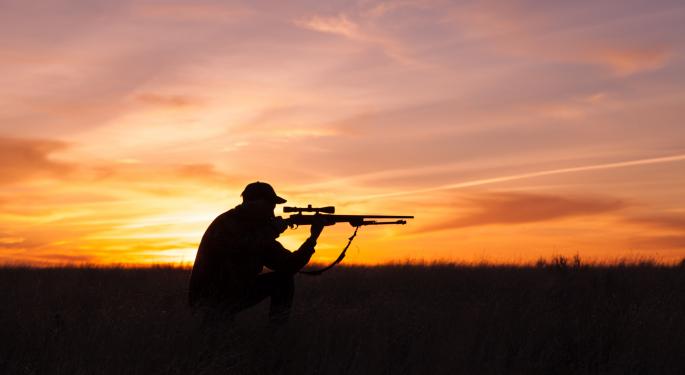 David Farbman, the serial entrepreneur that founded Outdoor Hub, Carbon Media Group and other growing enterprises, is on a mission.
His new book, The Hunt: Target, Track, and Attain Your Goals is available now. He wrote the book to share his strategy and philosophy for achieving success, hoping that others could do the same.
"We are all hunters, and when you embrace the inner hunter, you just start taking down more of the targets you want in life," Farbman told Benzinga.
Even the most reclusive humans have (at one time or other) been a hunter. They may not set foot in the woods, but if they have ever dated, played sports or held a job, Farbman argues that they are still hunters.
"Success is always in season," he said. "If you have clarity around your targets and you can operate with a real-time mindset, then you can really create flow in any environment. I really believe that because success is always in season. I think that's the most important thing."
Related:Will Twitch Overtake YouTube And Netflix?
To further illustrate his point, Farbman referred to a quote from his friend, Matt Lester, at Princeton Investments.
"You've got to be able to see change before it's coming and then as it's happening and be able to see it in real-time."
"You always want to be Netflix -- you don't want to be Blockbuster," Farbman added. "You want to be Amazon, not Borders."
Unnecessary Camouflage
Everyone has bad days, weeks and months. Some entrepreneurs may argue that they've had bad years. But The Hunt teaches individuals to realize that their success may be most inhibited by their own false beliefs.
"Let's think about what typically gets in the way of someone wanting to be a doctor, lawyer, whatever it may be," said Farbman. "A lot of the problems that first start is that voice inside your head, saying, 'You're not going to be a doctor,' or, 'You're not going to do this, you're not going to do that.'
"The first thing I try to do is help people identify more of that voice -- or as I call it, that judge, that ego, when you get stuck in that same thought, right? And that thought could be one of, 'I'm too shy,' or, 'I've always been too nice.' But what you don't realize is that you're just putting a bunch of unnecessary camouflage and crap and clutter in the way of focusing on your desired outcome."
Detroit Love
Farbman, who operates his businesses in Metro Detroit, said that he "could not be more excited by what's happening downtown and by the energy going on down there."
"I had the honor of being a pioneer in that market," he said. "We were some of the first guys playing down there. We still have some nice positions down there. I think it's awesome. But I have not done a ton, development-wise, in the last few years."
Related: AMC's 'Low Winter Sun' Captures The "Beauty And Grime" Of Detroit
When called upon -- either by Quicken Loans founder Dan Gilbert, ePrize founder Josh Linkner, or Detroit Mayor Mike Duggan -- Farbman said that he will be ready to step up and do whatever he can to help Detroit.
Disclosure: At the time of this writing, Louis Bedigian had no position in the equities mentioned in this report.
View Comments and Join the Discussion!
Posted-In: AmazonNews Entrepreneurship Success Stories Startups Tech Interview General Best of Benzinga