Beef Prices Are High, Herd Size Is Down -- But That's Only Part Of The Story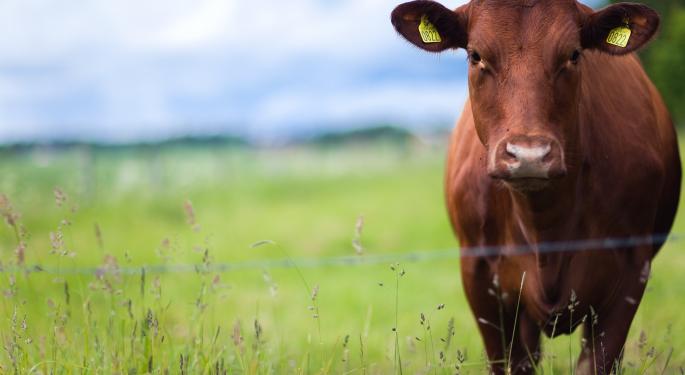 The headlines have been scary, especially for the carnivores among us -- beef prices are at their highest level in decades and the overall U.S. cattle herd at its smallest since 1951.
But industry experts say there's more to those numbers than meets the media's eye. Lance Zimmerman, an analyst at the Denver-based industry research group Cattlefax, says the combination of wide-spread drought conditions, along with rising demand, have indeed created challenges for the beef industry.
What's lost in that discussion, he tells Benzinga, is that the cattle industry is "able to produce today nearly twice as much beef from that cow herd as we did in the same one, from a head count perspective, in the 1950s," thanks to continued improvements in genetics, feeding technologies and animal husbandry.
Related: Watch Out, Mickey D's: Jack In The Box Is Making Some Serious Gains
Beef is also the victim of its own popularity. The drought may have decreased the cattle herd, "but...we've also seen increasing demand every single year coming out of the recession," said Zimmerman.
It's not just beef prices that are rising. U.S. pork producers are dealing with the porcine epidemic diarrhea virus (PEDV). The disease has forced them to kill off millions of piglets and, at the same time, driven pork prices up 10 percent or more. Poultry operators, meanwhile, are trying to rebuild their chicken populations, taking advantage of relatively lower corn prices, in the face of growing consumer demand.
At the same time, Zimmerman says, demand for U.S. beef exports from its five key international markets – Japan, Mexico, Hong Kong, Canada and South Korea – has remained "relatively robust" through February, with the March trade data expected in several week's time.
Even though mainland China officially has a ban on U.S. beef, due to the industry's use of the feed additive ractopamine, a lot of American beef is apparently making its way into the People's Republic via Hong Kong and other neighboring countries.
"What is favoring beef from losing considerable market share, with these high prices, is that their competing meats are going to be increasing in price as well," Zimmerman notes. "So beef is actually going to remain relatively competitive to these other proteins – at least through the summer and into the early fourth quarter."
View Comments and Join the Discussion!
Posted-In: News Commodities Retail Sales Restaurants Events Global Economics Markets Best of Benzinga