Benzinga's Weekend M&A Chatter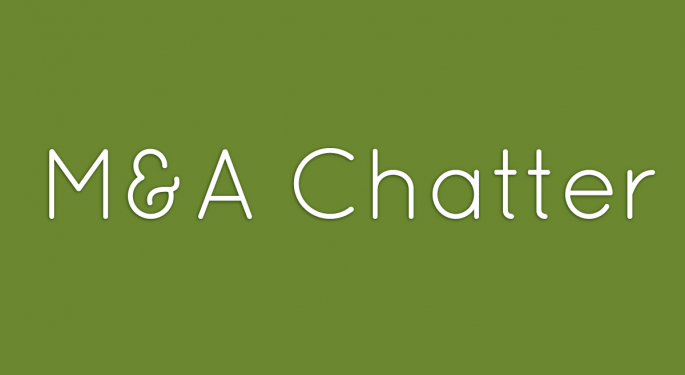 The following are the M&A deals, rumors and chatter circulating on Wall Street for Friday April 11 through Sunday April 13, 2014.
Autonavi to be Acquired by Alibaba at $21/ADS in Cash
The Deal:
AutoNavi Holdings (NASDAQ: AMAP) announced Friday that it has agreed to be acquired by an affiliate of Alibaba Group for $5.25 in cash per ordinary share or $21.00 in cash per ADS. The deal is expected to close in Q3 of 2014.
Autonavi Holdings closed Friday at $20.65, a gain of 3%.
AMETEK to Acquire Zygo for $19.25/Share
The Deal:
Ametek (NYSE: AME) and Zygo Corporation (NASDAQ: ZIGO) announced Friday that they have entered into a definitive merger agreement whereby Ametek will acquire all of the outstanding shares of Zygo for $19.25 per share in cash. The deal was unanimously approved by Zygo's Board and is expected to be completed by the end of Q2 2014.
Zygo closed Friday at $19.43, a gain of 32%.
Report Tyson, Post Bidding for Michael Foods
The Rumor:
Tyson Foods (NYSE: TSN) and Post Holdings (NYSE: POST) are each bidding for Michael Foods, which has been put up for sale by the private equity division of Goldman Sachs (NYSE: GS). according to a report from Reuters.Tyson was rumored last month to be looking at a buyout of Michael Foods, along with Treehouse Foods (NYSE: THS).
A deal could be worth 2.5 billion, according to sources.
Tyson closed Friday at $41.67, a gain of $0.35.
Glencore Xstrata to to Sell Las Bambas Stake for $5.85B
The Deal:
Glencore Xstrata (OTC: GLNCY) has signed an agreement for the sale of its entire interest in the Las Bambas copper mine project to a consortium owned 62.5% by MMG Limited, 22.5% by GUOXIN International Investment Corporation Limited and 15.0% by CITIC Metal Co., Limited for approximately $5.85 billion.
The deal is expected to close prior to the end of Q3 2014.
View Comments and Join the Discussion!