IPO Review For The Week Of April 7: IPOs Outperform S&P 500...Again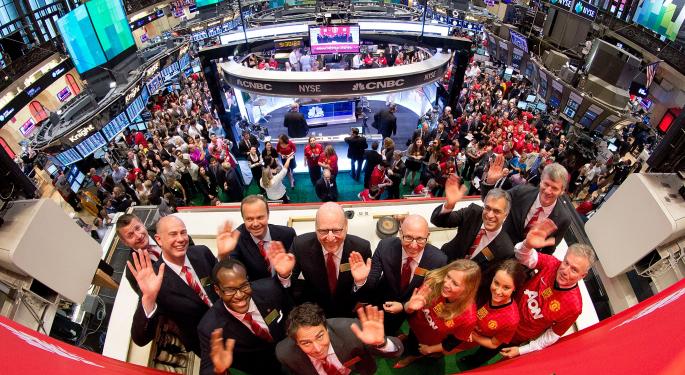 4:00 p.m. on Friday, April 11 wrapped up another bustling week for IPOs. The week's new issues netted IPO investors a 12.6 percent gain by close of trading on Friday. While not quite making a double-digit return this week, IPO investors found gains over 5.5 percent still out pacing the market's 2.5 percent decline.
</p>
This week, the market saw openings for:
Zoe's Kitchen was this week's IPO winner, raising $88M, and returning over 65 percent to the new issue investors. Read the full review of Zoe's action by clicking here.
Phibro Animal Health fought the good fight in early trading, forcing itself to buck the heavy weight of the market. The 11.8M IPO priced at $15 per share and opened higher at $16.50. IPO investors never saw red on their screen, even as the stock dipped to an intraday low of $16.12. Despite heavy selling pressure in the S&P 500, Phibro marched higher to finish off its first day at $16.85 per share.
Phibro's shares were brought to market by Merrill Lynch and Morgan Stanley. The company intends to use the proceeds of its offering to repay debt and for general corporate purposes.
Farmland Partners had the majority of its shares sent to the syndicate for sale to new investors. The company priced its 3.8M offer at $14 per share and opened just below at $13.75. The first tick represented Farmland's high for the day at $13.76. Within minutes of its open, the stock traded below $13. The remainder of the trading day, Farmland bounced between $12.50 and $13, ending its disappointing first day at $12.98.
Use of the proceeds aren't likely to excite investors either as they're slated to repay debt and potentially be used for acquisition and paying distributions. On the bright side, as they do decide what to do with the proceeds, they intend to invest them, "in a manner that is consistent with our intention to qualify as a REIT."
Enable Midstream Partners issued 12 percent of total shares to new investors for $20 per share. Shares opened higher at $21.50 per share and maintained a steady march in the positive direction, closing up just over 10 percent at 22.29.
Use of proceeds are slated for general purposes, but include growing the business through capital expenditures. They have stated that they may also pay down some of the commercial paper debt.
This week's IPOs may not have given secondary market investors the returns they hope by trading through the hype, but next week is unlikely to disappoint as IPOs stack the week.
IPOs for the week of April 14, 2014
City Office REIT (NYSE: CIO): Expected to begin trading today, City Office is expected to open Wednesday now.
Moelis (NYSE: MC): 7.3M shares are expected to price $26-$29 through Goldman and Morgan Stanley.
OpusBank (NASDAQ: OPB): 5.8M shares are expected to price between $31 and $34 through J.P. Morgan, Credit Suisse, Sandler O'Neill and Keefe Bruyette.
Scynexis (NASDAQ: SCYX): This stock has been delayed for over a week, now looking to drop the shares offered to 4.2M, while raising the pricing range to $12 to $14.
Quotient (NASDAQ: QTNT): Expecting to price 5M shares between $14 and $16 through UBS and Baird and Cowen.
TriVascular Technologies (NASDAQ: TRIV): J.P. Morgan and Credit Suisse are expecting to price 6.5M shares between $13 and $15.
Leju (NASDAQ: LEJU): Credit Suisse and J.P. Morgan are expecting to price 17.7M ADS between $10 and $12.
Sabre (NASDAQ: SABR): Expected to price 44.7M shares between $18 and $20 through Merrill Lynch, Goldman Sachs, and Morgan Stanley.
Vital Therapies (NASDAQ: VTL): 4.5M shares are expected to price between $13 and $15 through Merrill Lynch and Credit Suisse.
Weibo (NASDAQ: WB): Weibo is pricing 20M ADS for $17 to $19 through Goldman Sachs and Credit Suisse.
Sportsman's Warehouse (NASDAQ: SPWH): 12.5M shares are expected to price between $11 and $13 through Credit Suisse and Goldman Sachs.
Disclosure: At the time of this writing, the author holds no positions in any aforementioned securities; however, at a future time, he may choose to hold long or short positions without notice.
Posted-In: News IPOs Best of Benzinga
View Comments and Join the Discussion!