Flyers Complain About This Airline The Most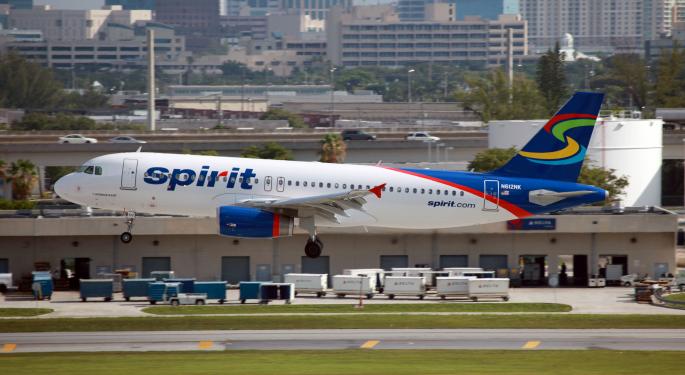 As of 2013, the most recent year in the analysis, Frontier Airlines ranked as second most complained-about, reflecting a spike that began in 2012 and pushed it past United Airlines, whose complaints peaked in 2012.
Spirit Airlines (NASDAQ: SAVE) passengers complain more than riders of any other major airline, according to U.S. PIRG's analysis of five years of DOT complaint data.
While no airline was complaint free, Southwest and Alaska Airlines came close, ranking consistently as the least two complained about airlines from 2009-2013.
This graph from U.S. PIRG shows the rankings, and highlights how Spirit is really in a complaint class of its own: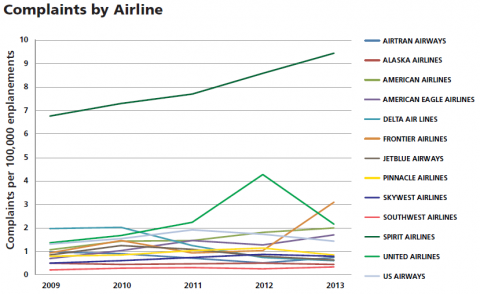 Just as Spirit Airlines was in a complaint class of its own, one type of part of the airline experience triggered far and away more complaints than any other: Flight Problems. Flight problems are cancellations, delays or any other deviations from schedule.
Baggage, customer service and reservations/ticketing/boarding, were the next three largest categories of complaints.
While complaints arose in many other areas: oversales, fares, refunds, disability, advertising, discrimination, animals and other, none of those exceeded seven percent of total complaints.
See also: Worrying Housing Market Signs
Unsurprisingly, major corporate upheaval led to increased complaints. United completed its merger with Continental in 2012, and its complaints fell sharply in 2013.
Delta Airlines complaints have fallen consistently since it completed its merger with Northwest in 2010.
U.S. PIRG had to do a lot of work to compile the report; the DOT does not maintain the kind of easy to search complaint database that other agencies do, such as the data at saferproducts.gov, safercar.gov and the cfpb.gov.
Unsurprisingly, a major recommendation of the report is that the DOT improve its data gathering and reporting.
One thing that is easy to use is this cheat sheet of your rights as an airline passenger. U.S. PIRG put it together so you'll know how to respond whenever your airline treats you poorly.
When asked about the report's findings, Spirit Airlines told Benzinga:
"Spirit is committed to delivering the lowest base and total fare to our customers. We are focused on giving our customers a great value every time they fly Spirit. Many of the DOT complaints about Spirit are driven by our customers not fully understanding that we offer unbundled fares that let them control how much they spend."
"In 2013, we had a total of 1,021 DOT complaints and served over 12 million customers. While we want every customer to have a great experience, eight complaints per 100,000 enplanements is a pretty small number."
"2014 is Spirit's 'Year of the Customer' and we are working every day to reduce complaints by helping customers learn about how to fly Spirit to go where they want and keep more money in their pocket."
Disclosure: The author helped research and edit a version of a U.S. PIRG report from 2012.
View Comments and Join the Discussion!
Posted-In: Alaska Airlines Customer Complaints Delta Airlines DOTNews Topics Reviews General Best of Benzinga