Benzinga's M&A Chatter for Wednesday April 9, 2014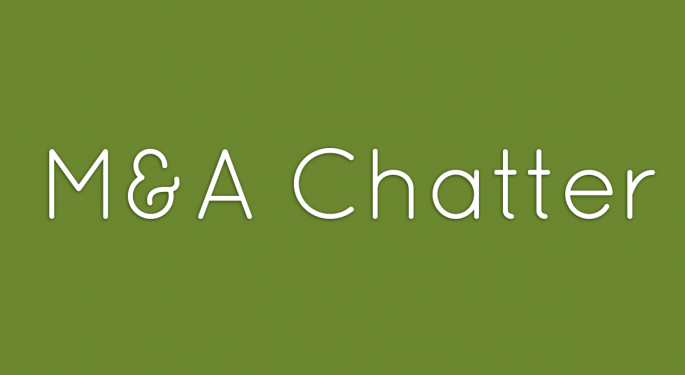 The following are the M&A deals, rumors and chatter circulating on Wall Street for Wednesday April 9, 2014:
Yongye Accepts Revised 'Going Private' Proposal of $7.10/Share; Enters into Amendment to Merger Agreement
The Deal:
Yongye International (NASDAQ: YONG) announced Wednesday that it has agreed to an amended proposal to be acquired in a 'going private' transaction at $7.10 per Share. That is up from the previous offer of $6.69 per share.
The deal is expected to close before the end of Q3 of FY 2013.
Yongye International shares closed Wednesday at $6.96, a gain of 2%.
Mars to Acquire Portion of P&G's Pet Food Business for $2.9B in Cash
The Deal:
Mars and Procter & Gamble (NYSE: PG) announced Wednesday that Mars has agreed to acquire the IAMS, EUKANUBA, and NATURA brands in major markets for $2.9 billion in cash.
The companies expect to complete the transaction in H2 of 2014.
Procter & Gamble closed Wednesday at $81.49, a gain of $0.14%.
News Corp Acquires UK Luxury Website Owner
The Deal:
News Corp (NASDAQ: NWS) (NASDAQ: NWSA) announced Wednesday the acquisition of Handpicked Companies, owner of The Handpicked Collection luxury website (www.handpickedcollection.com). Terms were not disclosed.
News Corp closed Wednesday at $17.20, a gain of $0.15.
<bspinoff of="" barnes="" noble="" nook="" business="" rumored="" again="">The Rumor:
Shares of Barnes & Noble (NYSE: BKS) moved sharply higher Wednesday on a renewed rumor from Deal Reporter that it was considering a spinoff of its Nook business. Liberty Media (NASDAQ: LMCA) announced on April 3 it had sold off most of its BKS stake, making a spinoff of Nook easier, according to the publication.
A source close to the situation told Benzinga there was no truth to the rumor.
Barnes & Noble closed Wednesday at $19.24, a gain of almost 6%.</bspinoff>
Posted-In: News Rumors Stock Split M&A Tech
View Comments and Join the Discussion!