LinkedIn Feared Google - But Not Facebook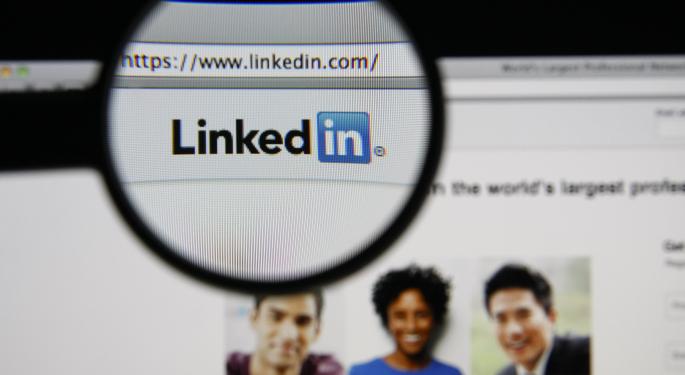 Facebook (NASDAQ: FB) may have become the world's largest social network, but that wasn't the company that concerned LinkedIn (NASDAQ: LNKD) in 2004.
"I had this list of 27 vicious competitors that people just don't remember anymore," Konstantin Guericke, co-founder of LinkedIn, told Benzinga.
"Some of them were less vicious than others. But the ones we were concerned about [were] really during the first year and a half to maybe two years. After two years, we didn't really have much worry anymore. Facebook is not on that list, nor is Friendster or MySpace."
Related: SLIDESHOW: Recruiting Expert Elizabeth Garzarelli On How To Get A Job Using LinkedIn
LinkedIn was, however, concerned about Monster.com.
"They had a billion dollars in revenue when we started," Guericke recalled. "Six months after we launched, they launched network.monster.com. People don't remember that today, but they did."
Microsoft was also in this space, but Google (NASDAQ: GOOG) had the potential to be an even bigger threat.
"Google was kind of like ours in the productivity space," Guericke explained. "You go try to find something quick and get it done, which is very much like LinkedIn. Google launched Orkut less than a year after we launched."
Orkut ultimately achieved some success in India and Brazil, but it failed to catch on anywhere else.
"Back then it was the hot thing," said Guericke. "Google had just gone public and social networking with Friendster had really taken off, and Orkut was the first that really combined social and business. It had a social tab and a business tab, and everyone in Silicon Valley signed up for it in the first week, kind of like with Gmail."
Guericke said that he remembers seeing a profile from Salesforce founder and CEO Marc Benioff, who had somewhat of a joke profile on LinkedIn but had one that was "completely serious" on Orkut.
"So we had great concerns about Google," said Guericke.
Friendster Could Have Been A Threat
After thinking about it, Guericke said that Friendster would have probably been on his list of vicious competitors.
"With Friendster we weren't quite sure, because one of the hypotheses was that people have a different context for interacting," he explained.
People can become friends after conducting business together (and vice versa), but LinkedIn believed that users would want to separate those worlds.
"On the personal side you're looking for entertainment -- for procrastination from work, really," said Guericke. "When you look at how much Facebook is used in the office…it's often very popular among lower-end employees who are just bored out of their minds and just find it very fun to post updates and read updates, etc."
On the other hand, LinkedIn users want to invest their time in something productive, "which we thought was much better, and I still think, ultimately, is the bigger business."
"It just takes longer to build," Guericke added.
Disclosure: At the time of this writing, Louis Bedigian had no position in the equities mentioned in this report.
Posted-In: Facebook FriendsterNews Management Success Stories Startups Tech Interview Best of Benzinga
View Comments and Join the Discussion!