Denver Cannabis Shops Gear Up For Lucrative Tourist Trade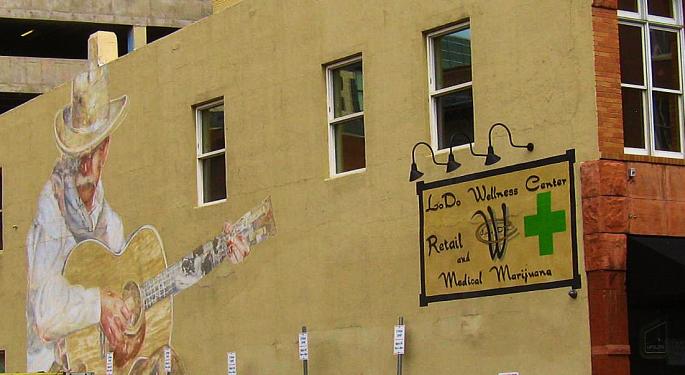 As consumer and investor interest grows in the booming marijuana industry, it has dawned on many cannabis entrepreneurs that they may need to clean up their collective image; to step away from their product's shady past and make it more customer-friendly.
In Colorado, where sales of recreational marijuana for adults became legal on January 1, some cannabis dispensaries are now opening up tourist-oriented stores – especially in the pedestrian-friendly Lower Downtown, or LoDo, part of Denver.
One such store, Euflora, had its grand opening on Friday at a location directly on one of Denver's biggest tourist attractions – the 1.25 mile-long 16th Street Mall. Euflora's owner and manager, Jamie Perino, said she created the space to attract people such as herself – who, before she decided to invest in the enterprise, had little direct contact with marijuana.
Getting Started
Perino, whose background is in the building industry, originally thought she'd start her own grow facility. But once some prime retail space became available on the 16th Street Mall, she refocused her concept – creating a large, well-lit, high-tech, no-pressure dispensary that feels like an Apple Store.
"I took out pretty much all I had in investments, from 401Ks and IRAs throughout the year, and sunk that into this business," Perino tells Benzinga, "got a couple of investors behind me and that's how I got started."
Related: The Future Of Marijuana Policy: The South
Euflora also has a unique, patent-pending feature: samples in sealed, perforated containers, where potential customers can hold them up to the light and even smell the marijuana buds without touching them. And each cannabis sample is accompanied by a touch-screen computer tablet, that gives would-be customers information on each strain they're considering.
On opening day, a lot of customers at Euflora were visitors from out-of-state, who happened upon the store while taking in Denver's other sites.
"I've actually never been to a dispensary in my life, so this is my first time being here," said 28-year-old Adam, who works in IT in Pennsylvania and asked that his last name not be used. "I was actually really excited just to see what it was all about."
"I was just walking down 16th; it was a fluke," said Dan Patience from Calgary, Alberta – who was in town for a business conference. "Just curiosity, absolute curiosity, I'm going to get a T-shirt, cause I can't buy [cannabis] and take it back, anyhow."
By state law, non-Colorado residents can only purchase one-quarter of an ounce [or seven grams] of recreational marijuana in a single transaction – while Colorado residents can purchase an ounce at a time.
And given that cannabis tourists cannot take their purchases back home, dispensaries like Euflora are pre-packaging a lot of product into a one-gram sampler. "We thought about this for a long time," Perino remembers. "When you were a little kid and you went to the candy store, you didn't want just one big, huge package of M&M's; you wanted to try a little bit of everything,," she continued.
"So that's our thought process. We have 20 different strains. Tourists can come in and try up to seven different strains this way, rather than being stuck with just one kind."
Adapting To Change
One block off the 16th Street Mall, the LoDo Wellness Center has also created a very welcoming atmosphere for its customers. The dispensary started as a medical marijuana facility over four years ago, and began catering to recreational users starting January 1.
In terms of tourist traffic, its location – just blocks from Coors Field and surrounded by art galleries and restaurants – couldn't be better. Haley Andrews, the Lodo Wellness Center's manager, says they have about 50 medical marijuana patients a day – along with up to 400 retail customers.
When asked to describe a typical retail cannabis customer, Andrews rolls her eyes – saying their customers run the gamut.
"A lot of people come here [to Denver] for work , and so they're going to just try this out while they're here," Andrews notes. "[But] a lot of people are coming here just for this purpose. This is the whole purpose of their trip. This is just one more thing to do while you're here in Colorado."
Posted-In: Cannabis News Commodities Travel Restaurants Events Small Business Hot Best of Benzinga
View Comments and Join the Discussion!