Amazon's Fire TV Could Excel As Secondary Game Console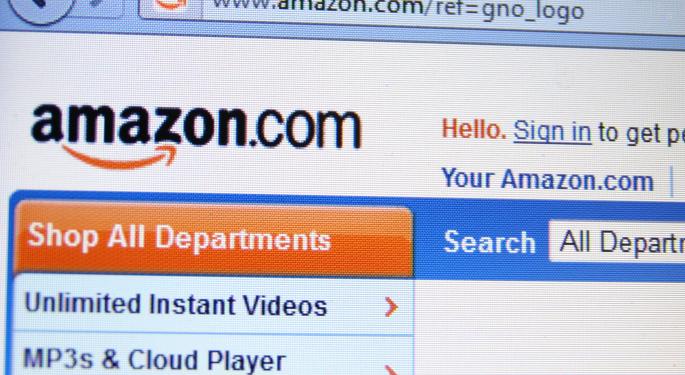 Amazon's (NASDAQ: AMZN) Fire TV is unlikely to compete with PlayStation 4 or Xbox One, but it could still worm its way into gamers' homes.
"Success of the product as a secondary console could certainly emerge," IBISWorld analyst James Crompton told Benzinga via e-mail.
Crompton outlined a few ways in which Fire TV could excel:
Fire TV's smaller and more portable size could be attractive to current Prime users who own another console and have multiple TVs.
As an HTML and Android-based device, Crompton believes that Fire TV will encourage app developers to generate new content.
The current average game price is $1.85, which may also be attractive to consumers.
"Amazon certainly is seeking to attract its Prime customers to its website with more frequency," said Crompton. "Prime users typically spend more money on Amazon's site than non-Prime members, and Amazon's recent price hike of its Prime service is expected to negatively impact the number of prime subscribers. Nonetheless, by expanding the avenues for Prime users to purchase goods online, I expect that Amazon will be able to partially mitigate this impact."
Related: Kindle Owners Spend $443 More On Amazon Than Everyone Else
Direct Competitors
Fire TV may be a solid competitor to Apple TV, but it could have trouble competing against devices that are significantly cheaper.
"Roku and Google Chromecast could be more attractive options for cost-conscious consumers," Crompton warned. "While the Fire TV boasts more powerful computing power, most consumers buy these products to simply stream video content."
Crompton believes that Fire TV's ASAP feature is an "attractive characteristic," and voice search could give the device an advantage.
"However, Fire TV noticeably lacks access to HBO Go, which the other devices provide," said Crompton. "Furthermore, I cannot imagine that current owners of Apple TV, Chromecast or Roku devices would ditch their current device for Amazon Fire TV."
It should be noted that very few devices have offered HBO Go immediately at launch. Chromecast, for example, arrived last summer but did not receive the HBO Go app until November.
Related: Amazon Fire TV Announced: Does It Live Up To Rumors And Expectations?
Still A Tough Road Ahead
Crompton may be optimistic, but he acknowledged that Fire TV still has a number of obstacles to overcome.
"While the gaming capabilities and music content (including Pandora and iHeartRadio) are noticeable features in relation to its competitors, I personally would rather play my PlayStation 4 if I want to game, and listen to music on my iPhone or computer," said Crompton.
"Nonetheless, the portability of the Fire TV, the ability to prebuffer and instant stream videos and its content selection will likely enable it to penetrate the market as a secondary device for game console owners."
Disclosure: At the time of this writing, Louis Bedigian had no position in the equities mentioned in this report.
Posted-In: Amazon Apple TV Chromecast comments Fire TV HBO GoNews Tech Best of Benzinga
View Comments and Join the Discussion!