Amazon Fire TV Announced: Does It Live Up To Rumors And Expectations?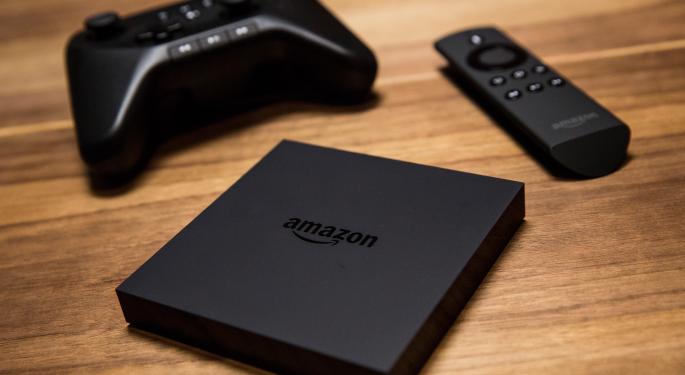 Amazon (NASDAQ: AMZN) delivered on its promise to announce the next chapter in its video business, but is this what consumers wanted -- or expected?
According to The Verge's live blog of Wednesday's event, Amazon unveiled a compact video streaming device called Fire TV.
Contrary to one of the rumors, Fire TV is not a Chromecast-like HDMI stick. Instead, the device looks more like an Apple TV clone.
Amazon kicked off the event by mocking its competitors -- especially the restrictions (ex: Apple TV cannot play videos from Amazon Prime). However, Apple won't allow other manufacturers to build devices that play iTunes music or videos natively, so don't expect Fire TV to be any less restrictive. With either device, consumers will be locked out of a competing content hub.
That said, there are two unique features that set Fire TV apart from the crowd.
#1: Voice Search
Amazon's new, $99 device comes with a thin, rectangular remote that doubles as a microphone for voice-based searches. If it's anything like Siri, consumers might be disappointed. But if it works as well as the demo (which immediately responded to searches for 'Umizoomi' and 'John Malkovich'), it could prove to be a huge selling point for Fire TV.
Related: What if Apple's iWatch is Really a TV?
#2: Gaming
Is this the long-rumored game console that Amazon was thought to be developing?
It could be -- but Fire TV is not a full-fledged game console. While it appears to be more than a simple Android-based gaming machine, Fire TV is limited by a quad-core processor and a "dedicated" Adreno 320 GPU from Qualcomm. This, according to Amazon, makes it three times as powerful as Apple TV, Roku and Chromecast. But it pales in comparison to PlayStation 4, which features an eight-core AMD x86-64 CPU and an AMD Radeon GPU.
PS4 also has 500GB of storage space and 8GB of memory versus Fire TV's 8GB of storage and 2GB of memory.
Of course, Fire TV is also $300 cheaper than PlayStation 4, which could make it a good family device for those who don't play many games.
Over time, Fire TV could turn out to be a decent (albeit low-powered) gaming device, thanks to early support from Ubisoft, Disney, Electronic Arts, 2K, Sega and Telltale Games. Double Fine, the studio from critically acclaimed game developer Tim Schafer, has also signed up to develop for the platform.
Early screenshots (of Minecraft, Monsters University, Sev Zero and an unnamed prehistoric adventure) indicate that the first batch of games may be no more complex than those found on traditional Android and iOS devices. But that could change as Amazon Game Studios and other developers begin to work on additional projects.
Last but not least, Amazon will sell a game controller (which appears to be the same one that leaked last month) separately for $39.99. Alternatively, Fire TV users can play games with a tablet or the included remote.
Related: Will Microsoft Lure Cable Giants to Xbox One Before PlayStation 4 and Apple TV?
Beyond That, Fire TV is a Familiar Set-Top Box
The device comes with a wide variety of video apps, such as Netflix, Hulu, Flixter, WatchESPN and YouTube. Many more are on the way, including a number of music apps (Pandora, iHeartRadio, etc.). Spotify and HBO Go appear to be absent from the current list, however.
Amazon attempted to differentiate Fire TV by adding other features, such as a best value tool that will allow users to find the cheapest video option for individual purchases.
The device will also display photos taken with an iPhone (and likely Android devices). New photos will be added automatically for those who use Amazon Cloud Drive.
Another feature, X-Ray for Movies and TV Shows, provides details on actors and movies while videos are being played. This feature displays song lyrics when a music video is playing, and can also be used with a Kindle Fire HDX.
Amazon will also bring its famous parental controls to Fire TV in the form of FreeTime mode.
Fire TV ships today and is already available to order from Amazon.com.
Many (But Not All) Of The Rumors Were True
Amazon announced a set-top box that plays games, music, movies and TV shows. It will sell for less than $300, as rumored.
The company also unveiled a game controller, along with its first two games for Fire TV: Sev Zero and an unnamed prehistoric adventure.
Amazon did not announce a free, ad-supported video service. The company didn't introduce a cheap, Chromecast-like device, nor did it make any announcements regarding new content deals for Prime Instant Video.
However, on Tuesday Amazon announced that it had acquired the exclusive streaming rights for 24 and 24: Live Another Day.
Disclosure: At the time of this writing, Louis Bedigian had no position in the equities mentioned in this report.
Posted-In: 24 24: Live Another Day Amazon Apple TV Fire TV Kindle Fire HDXNews Tech Best of Benzinga
View Comments and Join the Discussion!