Benzinga's M&A Chatter for Tuesday April 1, 2014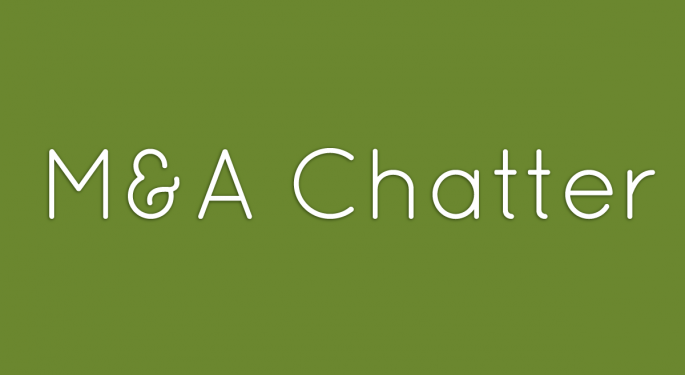 The following are the M&A deals, rumors and chatter circulating on Wall Street for Tuesday April 1, 2014:
Vistaprint Acquire PixarPrinting SRL for €127M
The Deal:
Vistaprint (NASDAQ: VPRT) announced Tuesday it has agreed to acquire Italy's Pixartprinting Srl for a base purchase price of approximately €127 million, plus a sliding-scale earn-out of up to €10 million for Pixartprinting, based on revenue and EBITDA performance targets for calendar year 2014. Vistaprint will own 97 percent of Pixartprinting, and 3 percent retained ownership by Pixartprinting's founder.
Vistaprint expects the deal to close during Q4 of FY2014.
Vistaprint shares closed Tuesday at $50.30, a gain of 2%.
Anixter Sale Process Reportedly Stalls
The Talks:
Shares of Anixter International (NYSE: AXE) fell sharply on a report from Bloomberg that sale talks have stalled, according to sources. Potential buyers were said to include French electrical-equipment distributor Rexel SA (OTC: RXLSF), and PE funds Advent International and CVC Capital Partners. Sources report the three parties have chosen not to bid.
A spokesperson for Anixter declined comment.
Anixter International closed Tuesday at $30.36, a gain of $7.30, a gain of 132% on 37 times average volume.
Report Ellie Mae No Longer for Sale
The Rumor:
Shares of Ellie Mae (NYSE: ELLI) fell Tuesday, following a report from Inside Mortgage Finance that the company was no longer for sale and was pursuing potential acquisitions. In November, Silver Lake was mentioned as a potential bidder for the residential mortgage software company.
A spokesperson for Ellie Mae was not available for comment.
Ellie Mae closed Tuesday at $28.39, losing 1.5%.
Apple Reportedly in Talks to Acquire Renesas Electronics Stake in JV
The Rumor:
Apple (NASDAQ: AAPL) is in talks to buy Renesas Electronics' (OTC: RNECF) 55% stake in Renesas SP Drivers for approximately $483M, according to Nikkei, citing a source. The unit, which is a joint venture with Sharp and Powerchip, designs LCD chips for iPhones.
Apple reportedly will complete the acquisition by the summer, according to the source.
Apple closed Tuesday at $541.65, gaining almost 1%.
.
View Comments and Join the Discussion!