Beyond The Warren Buffett Fathead: Dan Gilbert's Vision Of Giving Back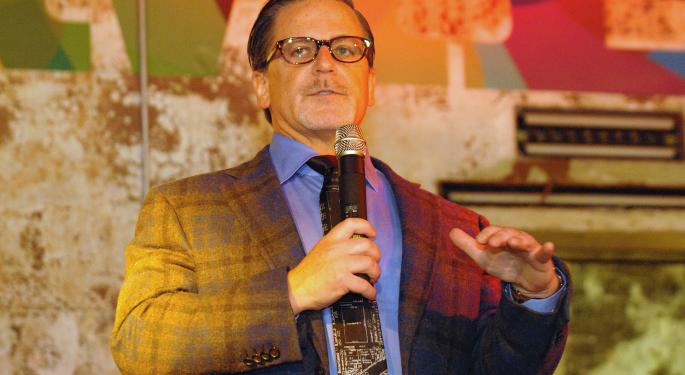 The Warren Buffett Fathead (only $29.99!) may have had the spotlight last week in light of the Billion Dollar Bracket Challenge from Quicken Loans and Yahoo Sports, but it is just the tip of Dan Gilbert's "giving back" iceberg.
Gilbert is a member of Giving Pledge, committing the majority of his wealth to philanthropy. He is also on the Board of Director's of the Children's Tumor Foundation. From posters of epic sports moments to his son's t-shirt designs in 2011, Gilbert's giving doesn't stop at individual charities - it reaches out towards an entire community...his home community.
Rebuilding Detroit
Many continue to see Detroit as a sinking ship, but Gilbert is an exception. Born and raised in the metro Detroit area allowed him to grow up on stories of the former grandeur of Detroit - from the gallas the Masonic Temple once hosted, to animation of the Packard Automotive Plant.
Fortunately, Gilbert's legacy and that of 21st Century Detroit could go hand in hand. Since Quicken Loans' relocation from the suburbs to downtown Detroit in 2010, Gilbert, its founder, funded more than $300 million worth in renovations of nine office buildings.
Related: Will Warren Buffett And Quicken Loans Repeat Their Billion Dollar Bracket?
Gilbert ensured that Quicken Loans was a pioneer in the construction of the M-1 Rail in 2009, purchased seven buildings in 2011, a 26-story building in 2012, a 23-story one in 2013 and multiple others.
All of his buildings and all of his lots are almost always fully occupied. With 30 buildings (or 7.6 million square feet) that his companies either own or run, Gilbert has been able to hire roughly 7,500 employees to assist him in his vision.
He's building an urban core from the ground up. For Gilbert's movement to keep gaining momentum, the bright minds of today and the visionaries of tomorrow must join in.
With so much talent bottled up within Michigan's universities, Detroit just needs to provide innovative opportunities to tap into this potential. The key: an urban core where people want to spend time, in which people want to invest and where people believe.
Revitalizing People And Business
As a principal of Detroit Venture Partners, Gilbert jumpstarts the growth of start-up technology companies in Detroit. DVP's portfolio currently includes app developer Detroit Labs and cloud software company iRule, along with 16 other tech start-up or early-stage companies.
Rock Ventures, Gilbert's umbrella company, now encompasses more than 40 tech-start ups in the heart of Detroit. As saturation of markets like Silicon Valley hit record highs, places like Detroit could offer the next-best fertile ground.
Next on Gilbert's revival agenda are improvements in Detroit's riverfront, as well as the development of a light rail system. For instance, he foresees Detroit's Grand Circus Park with lawn games, food vendors, beach volleyball and many other attractions needed for a summer in the city.
Related: Warren Buffett: U.S. Is Better With Detroit Than Without
While Gilbert's push for a Papa Joe's in Cadillac Square goes up in the air, the one in the Renaissance Center (home to General Motors' global headquarters) is still continuing on as planned. The notion of an open-air food marketplace and sidewalk cafes reflects yet again the urban core that megapolis' like New York and Chicago so effortlessly showcase.
Not The End
Many say bankruptcy is the end, but Gilbert believes it could be a necessary evil for a clean beginning.
In the meantime you might sight him at a town hall meeting, read one of his tweets, finally purchase that Fathead or take advantage of the rejuvenated space he has already created through brands like Opportunity Detroit.
Gilbert's own footprint isn't just physical landmarks or capital raised - it's the contagious innovative spirit and energy his vision perpetuates. Revitalization, innovation and growth are replacing the more common synonyms (barren, broken and beaten) for the city's future, as legendary entrepreneurs like Gilbert take on Detroit.
Posted-In: Children's Tumor Foundation Dan Gilbert Downtown Detroit FatheadNews Entrepreneurship Startups General Best of Benzinga
View Comments and Join the Discussion!