Benzinga's M&A Chatter for Monday March 31, 2014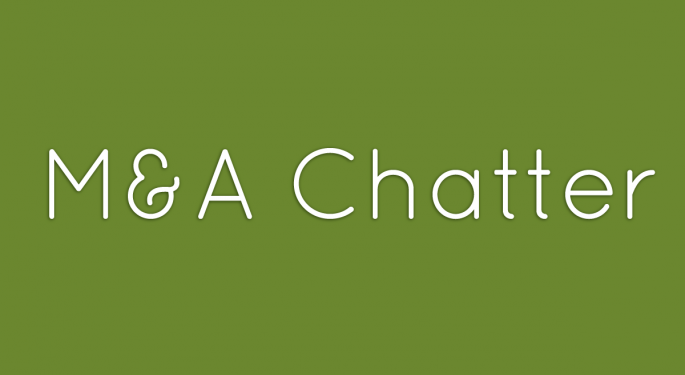 The following are the M&A deals, rumors and chatter circulating on Wall Street for Monday March 31, 2014:
Johnson & Johnson Accepts $4B Binding Offer from Carlyle Group to Acquire Ortho-Clinical Diagnostics
The Deal:
Johnson & Johnson (NYSE: JNJ) announced Monday it has accepted the binding offer from Carlyle Group (NASDAQ: CG), announced on January 16, 2014, to acquire JNJ's Ortho-Clinical Diagnostics business for approximately $4 billion. The deal is expected to close toward the middle of 2014.
Johnson & Johnson shares closed Monday at $98.23, a gain of $0.79.
BioFuel Shares Soar Almost 150% on Greenlight Stake, Proposal
The Proposal:
Shares of BioFuel Energy (NASDAQ: BIOF) surged as much as 148% higher on Monday, on a disclosure of a 35% stake by investor David Einhorn's Greenlight Capital in a 13D filing on Friday. Greenlight and Jim Brickman also proposed the BioFuel Energy acquire all of the equity interests of JBGL for $275 million in cash and stock. JBGL is owned by Greenlight and Brickman.
BioFuel Energy confirmed receipt of the non-binding proposal and said the board of directors of the company will establish a special committee consisting of independent directors to evaluate the proposal.
BioFuel Energy closed Monday at $30.36, a gain of $7.30, a gain of 132% on 37 times average volume.
Yahoo Reportedly in Talks to Acquire News Distribution Network for $300M
The Rumor:
Yahoo (NASDAQ: YHOO) is said to be in talks to acquire online-video service News Distribution Network, for $300 million, according to WSJ. NDN is the number four ranked video site, ahead of Yahoo at number five. The acquisition would help Yahoo compete against Google's (NASDAQ: GOOG) YouTube.
A spokesperson for NDN said they are not in talks to be acquired by Yahoo at this time.
Yahoo closed Monday at $35.90, unchanged.
View Comments and Join the Discussion!