General Motors Recalls Now Total 4.8 Million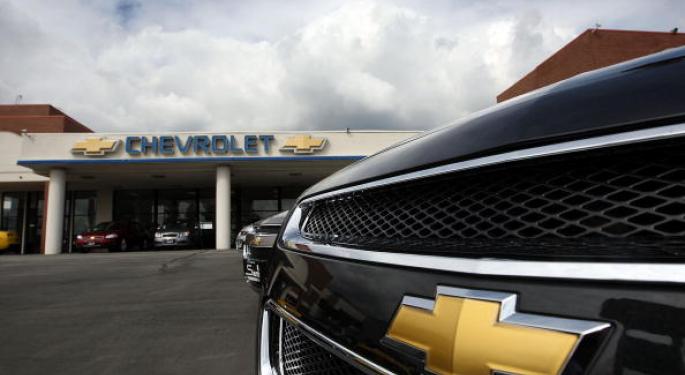 In what was rapidly turning into a "recall blitz," General Motors Company (NYSE: GM) announced Saturday morning that it was adding 490,000 trucks and 172,000 compact cars to its recall total for the first three months of 2014.
For anyone without a calculator handy, the total now stands at 4.8 million, or, as the New York Times reported, six times the number of vehicles recalled in all of 2013.
Saturday's recalls are related to the 2014 Chevrolet Silverado 1500 and GMC Sierra 1500 pickup trucks, 2015 Chevrolet Surburbans, Tahoes, and GMC Yukon and Yukon XL vehicles with six-speed automatic transmissions.
According to GM, the oil cooler line in the transmissions of those vehicles could leak, leading to fires. In fact, GM said, it had learned of three such fires but no injuries in those incidents. Nonetheless, GM spokesperson Alan Adler told the Times the automaker decided to recall the vehicles less than a week after learning about the problem.
Related: GM Financial Expanding Into Prime Loans
The recall of compact cars included the 2013-14 Cruze models with 1.4-liter four-cylinder engines. In those vehicles, the right-front axle half-shaft was said to be susceptible to breaking. This could cause a loss of power to the front wheels, causing the car to coast to a stop.
GM said that, although it knew of several dozen broken right-front axle half-shaft incidents, none had resulted in  a crash or injuries.
The recent actions by the automaker follow a recall based on a defective ignition switch on GM-made compact cars, including the Chevy Cobalt. That defect, which has been linked to 13 deaths, also includes selected model years of Pontiac Solstices, Pontiac G5s, Saturn Skys, Chevrolet HHTs, and Saturn Ions.
A congressional inquiry into facts, scheduled to start Tuesday, is expected to look at recent evidence that GM knew about the ignition switch problem at least 10 years ago. GM CEO Mary Barra is slated to testify. Barra's appearance before Congress would be the most high profile testimony by a car company executive since Akio Toyoda appeared before a congressional committee in 2010. That appearance, related to unintended acceleration in millions of Toyota (NYSE: TM) and Lexus vehicles, ultimately resulted in a $1.2 billion settlement by Toyota.
Karl Brauer, senior analyst at Kelley Blue Book tells Benzinga the new evidence hasn't changed the fundamental challenge facing Mary Barra during this week's congressional hearings.
 "GM's new CEO has shown a consistent willingness to cooperate with government officials while portraying GM as a changed company that won't repeat the mistakes of the past," Brauer noted. "This is a good approach, and one that's supported by a genuine shift in corporate policy."
"As a business leader who can't change the past," he added, "Mary Barra's next best option is to make real, meaningful changes to the present and future regarding the automaker's safety measures and oversight policies. If she can convince Congress of these changes it will go a long way in resolving this issue."
At the time of this writing, Jim Probasco had no position in any mentioned securities.
View Comments and Join the Discussion!
Posted-In: Akio Toyoda Alan Adler Chevrolet HHTNews Travel Events Media General Best of Benzinga