Benzinga's Weekend M&A Chatter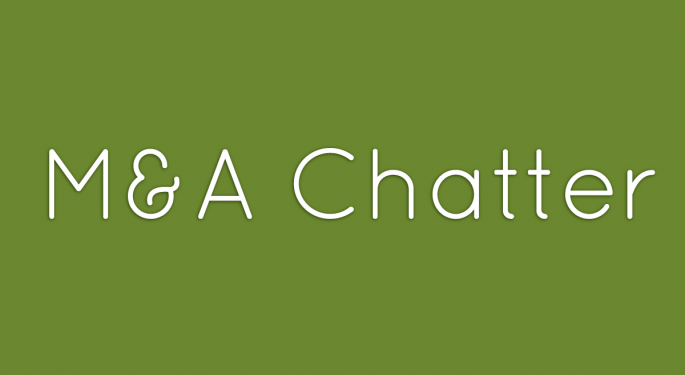 The following are the M&A deals, rumors and chatter circulating on Wall Street for Friday March 28, 2014:
Sterigenics to Acquire Nordion for $11.75/Share
The Deal:
Nordion (NYSE: NDZ) announced Friday that it has entered into a definitive agreement to be acquired by Sterigenics, a portfolio company of private equity firm GTCR LLC, for an aggregate cash consideration of $11.75 per share.
The deal is valued at approximately $727 million and is expected to close in H2 2014.
Nordion shares closed Friday at $10.41, a loss of $0.01. Shares were halted on Friday, prior to the announcement and are expected to resume trading Monday morning.
H&R Block Shares Rise on Bank Unit Sale Rumor
The Rumor:
Shares of H&R Block (NYSE: HRB) rose 6% Friday, on market chatter of a possible sale of the company's banking unit to BofI Holding (NASDAQ: BOFI)
Spokespersons for H&R Block and Bofi were not available for comment.
H&R Block closed Friday at $30.36, a gain of $1.78. BofI Holding shares rose 14%, gaining $11.06 to close at $87.90.
Worthington Industries to Acquire Tank Manufacturing Division of Steffes
The Deal:
Worthington Industries (NYSE: WOR) announced Friday that it will acquire the tank manufacturing division of Steffes Corporation. Terms were not disclosed.
Worthington Industries shares closed Friday at $37.65, a loss of 2.5%.
View Comments and Join the Discussion!