Rumor Becomes Reality: Facebook Finally Confirms Solar Drone Internet Project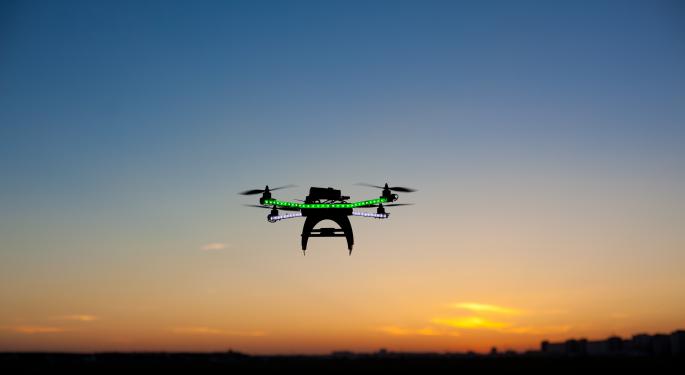 In announcing the Connectivity Lab, the newest component to last year's Internet.org global partnership, Facebook (NASDAQ: FB) CEO, Mark Zuckerberg just turned rumor into reality.
The announcement acknowledged the company's interest in high-altitude, long-endurance, solar powered drones that would stay aloft for months, providing Internet connections to sparsely populated parts of the planet.
According to Zuckerberg's post, the Connectivity Lab team would experiment with multiple technologies. Low-Earth orbit geosynchronous satellites, for example, would provide access in lower density areas, while solar-powered drones would do the job in more suburban locales.
Related: Facebook And Drones: Bringing The Entire World Online?
All systems, including drones and satellites would rely on FSO or Free-space optical communication, which uses invisible infrared laser beams to transmit data through space.
The posting included a notice that Facebook was hiring team members and noted that open positions had been posted on the Facebook Careers page.
The solar-drone rumor was backed up earlier in March by rumors that Facebook was negotiating to purchase Titan Aerospace, a drone manufacturer. There was no mention of Titan in the announcement from Facebook.
Instead, the team was said to include personnel from UK-based startup, Ascenta, who previously worked on the Breitling Orbiter and prototypes of the Zephyr, the longest-flying solar powered drone so far.
In addition, members of NASA's Jet Propulsion Laboratory, Ames Research Center, and the National Optical Astronomy Observatory joined the Facebook project.
According to The Verge, the drones would be designed to fly for months at a time at an altitude of 65,000 feet – well above commercial airspace. That altitude also reduced the risk of interference from wind and weather.
As The Verge pointed out, the technology already exists to achieve almost infinite mileage with solar drones. Solar Impulse, for example, flew almost 1,000 miles on a single trip using solar panels to charge up during the day and battery power at night.
The use of solar-powered drones was said to help solve the biggest issue related to remote Internet access – cost effectiveness. Google's (NASDAQ: GOOG) helium balloon-based Loon program solves the problem one way, Facebook's solar-powered drones solve it another.
The obvious altruism of both Facebook and Google did not mask completely the advantage both companies would see by bringing the two thirds of the world that is not currently online into the magical land of Google's search engines and Facebook's popular social media.
At the time of this writing, Jim Probasco had no position in any mentioned securities.
View Comments and Join the Discussion!
Posted-In: Ames Research Center Ascenta Breitling Orbiter Connectivity LabNews Events Global Media Best of Benzinga