Mark Cuban On The 'Hoggy' NFL: Pigs Get Fat, Hogs Get Slaughtered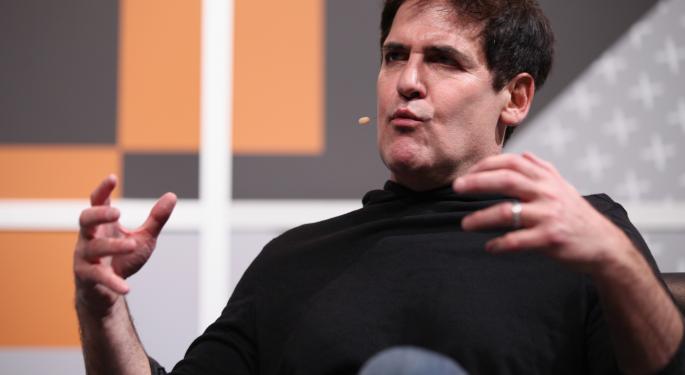 Well-intentioned or just sour grapes?
The owner of the NBA's Dallas Mavericks has never shied from speaking his mind, and Mark Cuban opened up another controversy on Sunday night – telling reporters the NFL's expanded television broadcasting schedule is going to hurt the game.
"I think the NFL is 10 years away from an implosion," Cuban reportedly said ahead of the Mavs' game against the Brooklyn Nets. "I'm just telling you: pigs get fat, hogs get slaughtered. And they're getting hoggy."
"I'm just telling you," he continued, "when you've got a good thing and you get greedy, it always, always, always, always turns on you. That's rule number one of business."
Related: 11 CEOs Who Also Founded Their Companies
Just last month, the NFL announced it was partnering with CBS (NYSE: CBS) to produce and televise Thursday Night Football programs for the 2014 season – with those games to be simulcast on NFL Network.
"Our goal is to bring these games to more fans on broadcast television," league commissioner Roger Goodell said in a press statement, "with unprecedented promotion and visibility for Thursday Night Football on CBS."
But Cuban begs to differ, saying the NFL is trying to take over the night-time TV schedule.
"Initially, it'll be, 'Yeah, they're the biggest-rating thing that there is,'" he said. "Okay, Thursday, that's great, regardless of whether it impacts [the NBA] during that period when we cross over. Then if it gets Saturday, now you're impacting colleges. Now it's on four days a week. It's all football. At some point, the people get sick of it."
So far, however, viewers seem to be enjoying the expanded NFL broadcasts. The league reported last year's Thursday Night Football games had an average of eight million viewers, up 10 percent compared to the 2012 season average.
Nielsen, meanwhile, says that, of the 10 top-rated single-telecast broadcasts of 2013, nine were NFL games. And for regularly-scheduled broadcasts, NBC's Sunday Night Football was the hands-down ratings winner.
Perhaps Cuban was just channeling the NBA's new commissioner, Adam Silver, who last month said pro basketball "should be a rival" to the NFL.
Posted-In: Adam Silver Dallas Mavericks entertainment Mark CubanTopics Media Press Releases General Best of Benzinga
View Comments and Join the Discussion!