Your Local ATM Could Be Vulnerable To Cyberattack Soon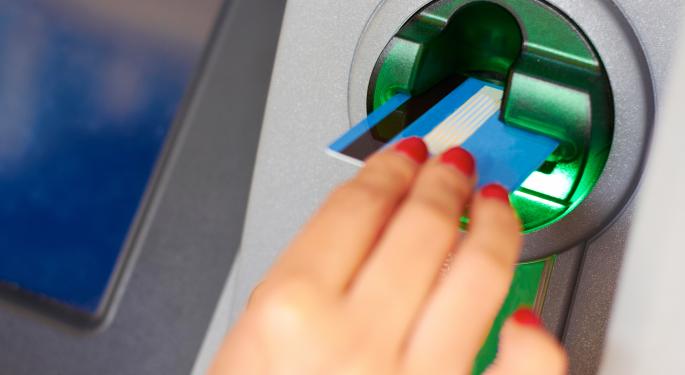 After April 8, ATMs worldwide could be vulnerable to cyberattack. That's because April 8 is the last day Microsoft (NASDAQ: MSFT) said it would provide regular tech support for Windows XP, which according to Hareetz.com is the software behind 95 percent of the world's ATMs.
Microsoft declined to confirm the 95 percent figure cited by Hareetz.com.
The largest ATM supplier in the U.S., NCR (NYSE: NCR), told  Hareetz.com that only about 30 percent of the world's ATMs would be upgraded by the deadline. Some banks said they planned to negotiate special support contracts with Microsoft to provide support after the deadline.
Related: Introducing Microsoft's New, Cheaper Office Suite
Although Microsoft failed to provide a breakdown of which banks planned to upgrade immediately versus those that would seek extended support contracts, one bank, JPMorgan Chase, told Fox Business it had obtained a "custom technology support agreement" from Microsoft.
In an email message, a Microsoft spokesman told Fox Business, "Enterprise customers, who have not completed their migration by April 8, 2014, can avail of Custom Support. Custom Support is not designed to extend the life of Windows XP. It should be considered a last resort to help bridge the gap during a migration process to a modern OS (like Windows 7 or Windows 8.1)."
Microsoft said it had been "working hard" to help customers migrate to a modern OS.
TD Bank, a subsidiary of Toronto-Dominion Bank said it was in the process of upgrading its software and Citigroup's Citibank also confirmed that it was migrating away from Windows XP.
Adam Levin, of IdentifyTheft911, said the biggest danger consumers face would be security holes hackers could exploit. Levin told Fox Business consumers should ask their bank if the bank has updated its operating system. He also recommended customers change their pin numbers prior to April 8 to be safe.
Meanwhile, The Verge reported that ATM software firm KAL predicted only 15 percent of U.S. ATMs would be running Windows 7 by April, half the expected worldwide upgrade rate. With thousands of machines vulnerable, Levin's admonition that consumers need to ensure their bank has either updated its software or, at the very least, obtained custom support in the interim, is crucial.
At the time of this writing, Jim Probasco had no position in any mentioned securities.
View Comments and Join the Discussion!
Posted-In: Adam Levin ATM Citibank Citigroup Custom SupportNews Events Media Best of Benzinga