5 Publicly-Traded Companies That Support Marriage Equality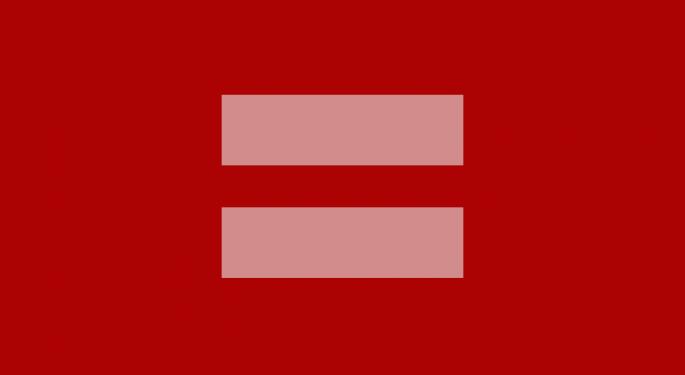 A number of companies, including Guinness and the Boston Beer Company, pulled their sponsorships of popular St. Patrick's Day parades this year after parade organizers banned LGBT participants from openly marching.
This is the most recent string of companies openly supporting marriage equality and LGBT rights. Last year, dozens of corporations, including Facebook, eBay and Time Warner Cable, argued in U.S. Supreme Court amicus briefs that laws banning same-sex marriages were unconstitutional.
Marriage Equality USA communications director Stuart Gaffney told Benzinga that companies used to run a greater risk of being boycotted if they came out in support of marriage equality.
"But, today, the atmosphere is really quite a different one," he said. "We see company after company stepping forward and taking great pride in associating their name in human rights and civil rights without fearing any kind of backlash."
Let's take a look at some publicly-traded companies that openly support marriage equality:
Apple
In 2008, Apple (NASDAQ: AAPL) publicly opposed California's Proposition 8, which would have eliminated the right to same-sex marriage. The company donated $100,000 to the "No to 8" campaign. CEO Tim Cook is also openly gay.
"Apple strongly supports marriage equality and we consider it a civil rights issue. We applaud the Supreme Court for its decisions today," the company said in a statement after the proposition was struck down.
Related: Still On Top: Eight Of The Longest-Serving CEOs
Expedia
As part of it's "find yours" series of advertisement that tells stories of why people travel, Expedia (NASDAQ: EXPE) released an advertisment that portrays a father who is hesitant about his daughter marrying another woman. The ad follows him on his trip to the wedding, where he finds understanding and ultimately accepts his daughter's union.
"You come to terms with it, and you say 'This is the very natural order of things in your life, and it's supposed to be this way," the father narrates.
The advertisement has more than 2.6 million views on YouTube.
Ford
Ford (NYSE: F) has often been the subject and criticism and boycotts for its long-term support of marriage equality and LGBT rights. The American Family Association called for a boycott of the automaker in 2006 when Ford said it would continue to run advertisements in LGBT publications.
At the time, Ford said in a statement that it was "proud of its tradition of treating all with respect and we remain focused on what we do best, building and selling the most innovative cars and trucks worldwide."
Nordstrom
In 2012, Nordstrom (NYSE: JWN) president Blake Nordstrom sent an email to employees saying that he and his two brothers (Pete Nordstrom and Erik Nordstrom) support marriage equality.
"We gave this thoughtful consideration and felt the time was right to come out in support of this civil rights issue," the letter said. "It is our belief that our gay and lesbian employees are entitled to the same rights and protections marriage provides under the law as all other employees."
Starbucks
Starbucks (NASDAQ: SBUX) executive Kalen Holmes released a statement back in 2012 saying the company supported marriage equality legislation that was in the Washington state House and Senate at the time.
"This important legislation is aligned with Starbucks business practices and upholds our belief in the equal treatment of partners. It is core to who we are and what we value as a company," the statement said.
Here's an advertisement from the Gay Alliance of all the companies that supported the Supreme Court amicus briefs in the cast of Hollingsworth v. Perry:
Posted-In: American Family Association Gay Alliance Marriage Equality USA U.S. Supreme CourtNews Politics General Best of Benzinga
View Comments and Join the Discussion!