GM Shares Resisting Constant Recall News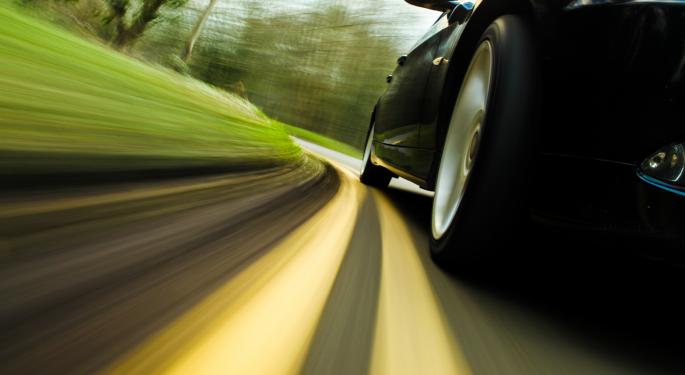 Despite the announcement of multiple recalls, General Motors (NYSE: GM) shares have been holding up fairly well over the last few trading sessions.
In fact, after Monday's revelation of three new recalls, the issue immediately retreated $0.84 from $34.55 to $33.71, before rallying to close higher by $0.52 at $34.63.
It should be noted that when an issue rallies after negative news hits the tape, it often indicates continued strength for the issue as investors take advantage of the decline in price to accumulate shares.
For GM, this scenario has come to fruition, as the company has added another $0.42 to its closing price, trading at $35.05 in Tuesday's session.
The technicals played a major role in GM's rebound. After finding support at $33.87 on Thursday and $33.57 on Friday, GM found support right in between those two levels at $33.71 and rebounded. The automaker also posted two closes at the exact same price ($34.09) on Thursday and Friday, adding further significance to the entire $34.00 level.
Related: Slap The Floor: Market Playing Defense
Perhaps GM's quick and decisive response to the issue by recently-appointed CEO Mary Barra has instilled confidence in investors that she is well-suited to lead the company. She stated that the company plans to increase efforts on pending product reviews, bring them forward and resolve them quickly.
"That is what today's GM is all about", said Barra, attempting to distinguish the company from the former GM that went bankrupt in 2009.
In addition, it was announced that GM expects to take a charge of approximately $300 million in the first quarter for the cost of the repairs for the three safety actions and the previously announced ignition switch recall. Putting a dollar amount on the cost of the recalls defines the loss expected and allows the company to move forward.
Keep in mind, GM's liability in upcoming lawsuits remains unknown and owners of the issue may be in for a bumpy ride. This is especially true if GM is found liable by the courts for civil damages from the deaths related to the delayed response to the problem.
For now, investors, such as well-known hedge fund manager Kyle Bass, are banking on the firm prevailing in these cases. Bass, who has been a huge proponent of GM for quite some time, cites "lots of politics behind what is happening at GM," as well as the "government may be liable for the claims the government is investigating."
"GM is one of the cheapest companies around and should trade in the high 40's," based on Bass' analysis. With a current forward price/earnings ratio of 14.55 versus Tesla Motors (NASDAQ: TSLA) same ratio of 59.55, his point has validity.
Related: Congress Steps In To Investigate General Motors And NHTSA
At this time, GM has found some resistance at $35.24 in Tuesday's session. Interestingly, this level coincides with its high from March 12 ($35.25) as well as the March 11 close ($35.18). If GM can clear that level eventually, it will enter an area with only minor resistance points until the March 11 high ($37.12).
The reason? It was from that high that GM cratered when the first recall was announced on March 11. With that area ($35.02 - $37.12) being thinly traded on that day, the only likely sellers may be shorter-term swing or day traders, locking in profits for the recent rally and nervous shorts attempting to cover.
Longer-term, a break out above $35.25 or break down below $33.57 may signal the direction of the next move in the issue. Bulls may be anticipating a test of the multiple highs near $38.00 and bears will be hoping for a test of the multiple lows at $31.00 level from mid-May of last year.
Posted-In: auto recall Kyle Bass Mary BarraNews Technicals Trading Ideas Best of Benzinga
View Comments and Join the Discussion!