AutoHarvest Offers Meeting Place, Collaboration For Intellectual Property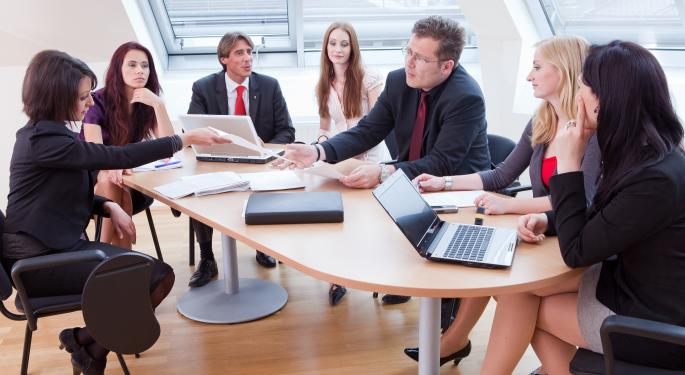 AutoHarvest, a digital marketplace for intellectual property, plans to open up its services globally in summer 2014
The online forum is the first of its kind and still in the BETA stage. It functions as a meeting place for manufacturers, universities, federal labs, startups, entrepreneurs and anyone else interested in IP technology.
Co-founder Jayson Pankin told Benzinga that nowadays IP is a bigger asset on the balance sheets of most companies than brick and mortar.
"Tomorrow's winners and losers are going to be defined by who adopts and brings to market IP-enabled innovation," he said.
Pankin worked at Delphi Automotive for nine years before founding AutoHarvest. He said that the consequence of the bankruptcy was that IP was going to be imprisoned again.
"It was the last thing on anybody's mind to put effort into," he said.
While still with Delphi, Pankin came up with the idea to create a system based on Covisint and approached David Cole, who had been concerned about the lack of flow of intellectual property into and out of the automotive market. Pankin and Cole then created the 501(c)(3) nonprofit in December of 2010.
Amazon of Innovation
The AutoHarvest system is modeled off of familiar marketplace-type websites like Amazon and eBay. The format is routine, with tabulated categories on the side. Users can search by keyword and use certain filters to find exactly what they need.
Members can find technologies available for out license or sale, they can post technology needs that other members can respond to, and they can browse research capabilities from universities or federal labs.
See also: Themis Trading's Joe Saluzzi On How To Fix Wall Street's 'Plumbing'
Pankin said it was very important to ensure that the playing field was level for AutoHarvet's wide range of users, from startups to global manufacturers. Every member has a direct line of sight to other members.
"Whether you're two guys and a dog in a garage or a Fortune 500 company, you have the same standing in the system," Pankin said.
Speed Dating
AutoHarvest doesn't function as a matchmaker, per se, but instead presents the raw opportunities for members to choose from. Pankin compared using AutoHarvest to speed dating.
"You cast a wide net," he said.
When a member sees a technology they want or has a solution to another's need, they can respond in a private message. From there, the software allows them to open a full-blown collaboration. But after a certain point, Pankin recommends collaborating on a different platform. Like any website, AutoHarvest is susceptible to security breaches.
"We will take you to the third date," Pankin said. "We are part of the FBI's Infraguard program to help U.S. entities safeguard their digital presence, but we're hackable."
Although the organization's name implies it works only with automotive technologies, Pankin stresses that they work a multitude of industries from transportation to medical.
"There's tremendous technology inside the (automotive) industry that helps other industries," he said.
Industry-inspired
A key component of the AutoHarvest organization is its innovation advisory council, which includes members from each of the Big 3 Detroit automakers, as well as OEMs and universities. The board represents a nucleus of the stakeholders' groups, Pankin said.
"Each member competes for their own benefit," he said.
AutoHarvest was built based on the wants and needs of the advisory council. They told the founders what they they would and wouldn't do, as well as problems they noticed with the AutoHarvest platforms.
"The council helped us create the structure, culture and execution so that people can feel comfortable that they are all equal," he said.
View Comments and Join the Discussion!
Posted-In: AutoHarvest Covisint David ColeSuccess Stories Startups Tech Interview General Best of Benzinga