Markets Enter Unknown Territory as U.S., EU Begin Imposing Sanctions On Russia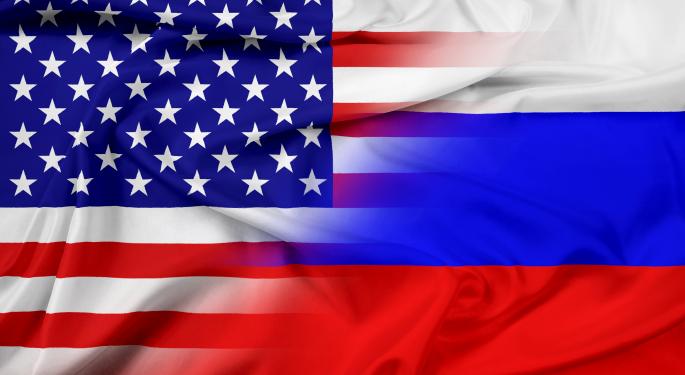 The next several weeks could be a critical and historic time for U.S. and European economic ties with Russia, as linked to the ongoing crisis in Crimea and Ukraine.
On Monday,The White House outlined its first sanctions against Moscow, following Russia's de facto occupation of Crimea and Sunday's referendum there.
President Barack Obama issued a new executive order, imposing sanctions on specific Russian officials that the White House say "wield influence in the Russian government and those responsible for the deteriorating situation in Ukraine." The statement also warned the U.S. "is prepared to take additional steps to impose further political and economic costs."
See also: Should Traders Be Worried About Crimea?
Washington and the European Union, meanwhile, are expected to announce more economic sanctions against Russia this week.
But any sanctions will likely cut both ways. Europe is dependent on Russian oil and gas, and Moscow could order counter-sanctions that would hurt the EU's economy. Europe reportedly has enough oil and gas in place to get it through the last few weeks of winter and into the warmer spring and summer months, however, and European energy markets remained steady on Monday.
The Russian economy, meanwhile, relies heavily on EU investment and trade.
"If Russia begins to answer sanctions with sanctions, it will be a pure loss for the country," Natalia Orlova, chief economist at Alfa Bank in Moscow, told Bloomberg. "More than 40 percent of consumption is imported goods."
Two weeks ago, as the Crimean crisis deepened, the MICEX stock market index, which monitors the 50 top firms on the Moscow Stock Exchange, fell by 10 percent – with the market value of some of Russia's leading companies reportedly dropping more than $58 billion as investors ran for the doors.
But the MICEX rallied on Monday, snapping a four-day losing streak, reportedly strengthened by hopes any western sanctions against Moscow will not be as severe as predicted.
"Everything will now depend on the geopolitical situation," Roman Osmanov, chief analyst for global markets at Promsvyazbank, said in an interview with The Moscow Times, "and how much Russia may be affected by the possible economic sanctions is yet unknown."
Posted-In: News Eurozone Commodities Politics Psychology Events Global Economics Best of Benzinga
View Comments and Join the Discussion!