Benzinga's Weekend M&A Chatter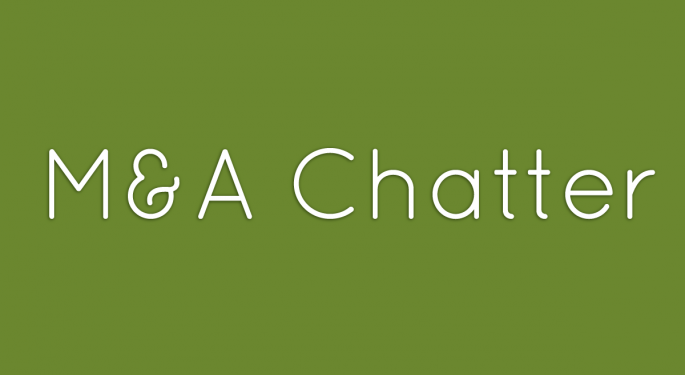 The following are the M&A deals, rumors and chatter circulating on Wall Street for Friday March 14 through Sunday March 16, 2014:
Giant Interactive Enters into Going Private Transaction at $12.00/Share
The Deal:
Giant Interactive Group (NYSE: GA) announced Monday Shanghai, China time, that Giant Investment Limited and Giant Merger Limited, a wholly owned subsidiary, will acquire the company for $12.00 per ordinary share and $12.00 per ADS. The merger is expected to close during H2 2014.
The buyer group includes the company's Chairman, Yuzhu Shi. Giant Interactive Group closed Friday at $11.40, a gain of almost 2%.
Vodafone Reportedly to Acquire Ono for €7.2B
The Rumor:
Vodafone (NASDAQ: VOD) has reportedly reached an agreement to acquire Spanish cable company Ono for€7.2 billion, including debt, according to Financial Times. The deal is expected to be announced on Monday.
Ono shareholders are said to have approved plans last week for an IPO.
Vodafone and Ono spokespersons declined comment.
Vodafone closed Friday at $36.98, a loss of $0.22.
Caracal Energy, TransGlobe Energy to Merge
The Deal:
Caracal Energy (OTC: CCAXF) and TransGlobe Energy Corporation (NYSE: TGA) announced Saturday that they have entered into an agreement to merge the two companies in an exchange of shares. Under the agreement, each TransGlobe shareholder will receive 1.23 new common shares of Caracal in exchange for each TransGlobe common share held.
The deal will close after meetings to be held by the two companies in June 2014.
TransGlobe Energy closed Friday at $7.58, a gain of 3%.
Encana Reportedly in Talks to Sell Wyoming Natural Gas Fields to Carlyle Group, Natural Gas Partners for About $2B
The Rumor:
Encana (NYSE: ECA) is in advanced talks to sell its Wyoming natural gas fields to Carlyle Group (NYSE: CG) and NGP Energy Capital Management for about $2 billion, according to Dow Jones, as reported on Sunday.
Encana has been attempting to sell its Jonah field assets, and concentrate on oil and natural gas liquids.
Encana closed Friday at $20.23, a gain of $0.17.
View Comments and Join the Discussion!