4 Reactions To The Michigan Scrap Metal Bill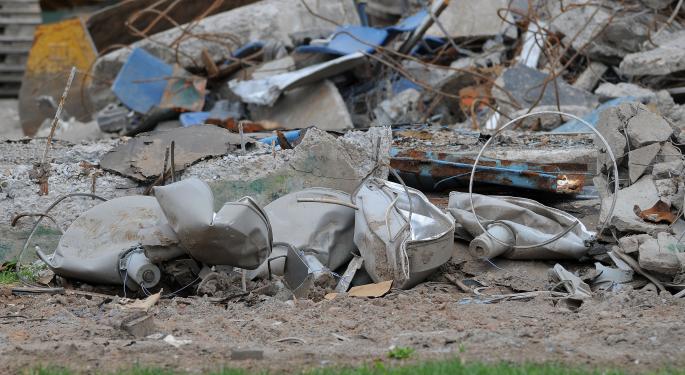 Michigan is one of the top exporters of copper to China. Combine that with a nationwide economic recession and little regulation of scrap metal, the Great Lakes state has seen a huge increase in illegal scrapping over the past few years.
Copper is being sold for $3 per pound, meaning a scrap metal thief can turn an hour's work into a few hundred dollars and leave victims with thousands of dollars in loss.
Last year, House Bill 4593 was introduced by state legislators to regulate the scrap industry. Key provisions in the bill include restrictions on how scrap metal sellers can be paid, a three-day delay in payment on certain items and more detail required in transaction records.
See also: 4 Things You Need To Know About Michigan's Scrap Metal Bill
Here's how people have reacted to the bill:
Law Enforcement
Michigan Association of Chiefs of Police Executive Director Robert Stevenson told Benzinga that people have been overwhelmingly supportive of the legislation.
"It's the first piece of legislation to pass one of the Houses that truly has the chance to prevent this crime from happening in the first place," said Stevenson.
The three-day delayed payment would both deter criminals from committing the crime for the instant cash and give law enforcement time to track down the illegal scrapper, Stevenson said.
Michigan had just 19 felony dispositions for selling stolen scrap metal in 2012. Two of those offenders ended up in State prison; 17 served time in jail, on probation or both. Four scrap dealers faced felony dispositions for purchasing stolen scrap metal; two of those dealers served time in State prison, and the others were put on probation.
Scrap Metal Industry
A Detroit metal shop owner who did not want to give his name said these kind changes in the law have been going on across the country for the last five years or so.
"They're changing the law everywhere," he said. "It'll get to be very unanimous after a while."
While he doesn't personally have a problem with the new laws, he knows there are people who won't be happy.
"They put a lot of stringent rules in it, and they make it difficult to do business," he said.
The scrap metal industry has pushed back heavily on the three-day delayed payment. Stevenson said scrap yard owners have been lobbying the legislatures and making financial donations in an attempt to buy influence.
"There will always be people who deal in non-legitimate ways. That's the world," the shop owner said.
State Legislators
Michigan's House and Senate are split on the issue. The legislation passed by an overwhelming majority in the House, with 98 of the 110 members voting in support of the bill. But it was stripped of its key provisions in the Senate.
"After three and half years of working on the bill, we sent it over to the Senate," State Representative Rashida Tlaib told Benzinga, "And within ten days, they completely gutted it."
One of the removed provisions was the three-day delayed payment. State Representative Paul Muxlow told Benzinga the Senate feels it would make the scrap industry uncomfortable with the three-day delayed payment. Instead, the Senate is pushing for a registry to track who is selling the scrap metal.
City of Detroit
Detroit, in particular, is suffering from theft on both the residential and city-wide level. Vacant schools and homes are being stripped, making it difficult for would-be investors to restore properties. Business owners have been the victims of stolen air conditioners, contributing to increases in their cost of commercial insurance. Even out-of-town visitors are prey to thieves who steal catalytic converters from cars parked outside the city's sports arenas.
Detroit Mayor Mike Duggan has made cutting down on illegal scrapping a priority. He urged state lawmakers to act on the legislation in his State of the City address last month.
"Mayor Duggan has made this legislation a priority because he recognizes that without meaningful reform on scrap metal dealers, the opportunity to stabilize and then grow Detroit neighborhoods is unattainable," Duggan's Chief of Staff Lisa Howze told Benzinga. "For every home that is ruined by the hands of scrappers, that is one less home that is available for a family to move into and fewer tax dollars that would accrue to the city."
Posted-In: Detroit Lisa Howze michiganNews Politics Legal Economics General Best of Benzinga
View Comments and Join the Discussion!